Recent Reviews
HANDEL AND HAYDN SOCIETY: Bach, Charpentier, Praetorius, Scheidt
BOSTON EARLY MUSIC FESTIVAL CHAMBER OPERA: Series Gala Concert
CHAMELEON ARTS ENSEMBLE OF BOSTON: Music of Schumann, Poulenc, Arensky, Schwendinger, and Kulesha
THE NOW ENSEMBLE: Burke, Snider, Greenstein, Smallwood, Dancigers
PRO ARTE CHAMBER ORCHESTRA: Duparc, Zwilich, Mozart
BOSTON MODERN ORCHESTRA PROJECT: Perle, Ung, Crocket, Jacob, Yi
HANDEL AND HAYDN SOCIETY: Handel's Messiah
BOSTON EARLY MUSIC FESTIVAL: Claudio Monteverdi's Orfeo
THE RADIUS ENSEMBLE: Bermel, Bax, Holland, Ravel
CHAMELEON ARTS ENSEMBLE: Schoenberg, Kirchner, Wagner, Berg, Brahms
BOSTON MODERN ORCHESTRA PROJECT: Skalkottas, Carter, Stravinsky, Spratlan
CHAMELEON ARTS ENSEMBLE: Weir, Shostakovich, Schumann, Sirota, Enescu
HANDEL & HAYDN SOCIETY: Mozart Coronation Mass
FLANDERS RECORDER QUARTET: Reclaiming Bach for the Recorder
SANDRINE PIAU AND SUSAN MANOFF: 19th and 20th Century Lieder
HANDEL AND HAYDN SOCIETY: J.S. Bach, St. Matthew Passion
THE CHAMELEON ARTS ENSEMBLE: Schumann, Mahler, Berg, Harbison, Korngold
HANDEL AND HAYDN SOCIETY: Christmas Concert
BOSTON EARLY MUSIC FESTIVAL: Europa Galante "New Faces and Old"
SOUND ICON : In Vain by Friedrich Haas
BOSTON CHAMBER MUSIC SOCIETY: Exiled to Hollywood - Outcast Artists in Southern California
BOSTON EARLY MUSIC FESTIVAL: Marc-Antoine Charpentier's La Couronne de Fleurs and La Descente d'Orphee
BOSTON MODERN ORCHESTRA PROJECT: Agócs, McPhee, Colgrass, and Vivier
HANDEL AND HAYDN SOCIETY: Pergolesi
THE CHAMELEON ARTS ENSEMBLE: Barber, Rouse, Beethoven
BOSTON CHAMBER MUSIC SOCIETY: Tsontakis, Brahms, Fauré
AMERICAN REPERTORY THEATRE: Porgy and Bess by George Gershwin, Ira Gershwin, DuBose Heyward
BOSTON MODERN ORCHESTRA PROJECT: Ziporyn, Foulds, Child, Shende
CHAMELEON ARTS ENSEMBLE OF BOSTON: Music of Beethoven, Bermel, Bloch, and Barber
HANDEL AND HAYDN SOCIETY: Requiem by Wolfgang Mozart
The Chameleon Ensemble: Schubert, Kurtag, Ligeti, Bartok, and Schumann
AMERICAN REPERTORY THEATER: Death and the Powers: the Robots' Opera
RADIUSOG ENSEMBLE: Hovhaness, Tower, Higdon, and Dvorák
BOSTON EARLY MUSIC FESTIVAL: Piano music of Mozart
THE BOSTON SYMPHONY: Stravinsky and Bartók
BOSTON EARLY MUSIC FESTIVAL: Dido and Aeneas by Henry Purcell
TOKYO STRING QUARTET: Mozart, Schubert, Barber
CHAMELEON ARTS ENSEMBLE OF BOSTON: Music of Beethoven, Roslavets, Ives, Tower, and Bartok
Current Concerts
Archives (2008-2010) Archives (1998-2007)

---
HANDEL AND HAYDN SOCIETY: Bach, Praetorius, Scheidt
Scott Metcalfe, Conductor; Soloists: Brenna Wells (soprano), Martin Near (countertenor), Marcio de Oliveira (tenor), David McFerrin (bass), and the Handel and Haydn Society Chorus and Orchestra.
Sunday, December 22, 2013

The concert opened with a set of four short works by Martin Luther and Michael Praetorius that were related by the theme "Nun komm, der Heiden Heiland" ("Come now, savior of the gentiles"). The first of these was sung by a set of four fine soloists à cappella, which in turn led to a choral re-configuration that added three more male voices, their rich and pearl-textured sound celebrating the Savior's birth. This was beautifully nuanced work. The next stage configuration featured two small vocal clusters that faced each other and added instruments. This group of four created a stunning opening that transported the audience to another place and time.
J.S. Bach's Cantata 62 with text by Martin Luther brought a larger group to the stage. Four soloists joined a larger instrumental group. Vigorous string and woodwind playing framed the excellent soloists which included countertenor, Martin Near, who filled in for alto, Thea Lobo. Marcio de Oliveira, tenor, led the second movement with a lilting and finely seamed aria, "Marvel, O mankind, at this great mystery!," his voice pure as the manna the aria offered us. Lovely string playing followed. Never overbearing, Mr. de Oliveira's tenor sailed aloft. The ensemble played with dignity, grace and nobility at every point. Bass David McFerrin followed with superb German enunciation and clarity. Harpsichord joined strings with zest. Mr. McFerrin's very flexible bass singing stirred soul-fire and the belief in redemption. This was a fire-powered interlude of singing with excellent restraint, as well. Very dynamic! A recitative followed, sung by a pairing of a soprano and countertenor that glided and shone. Chorale singing completed the cantata with calm and grace.
J.C. Bach's "Lieber Herr Gott" followed next, a swirling billow of voices calling upon humankind to get ready for the arrival of Jesus with open hearts. Lovely part singing appeared with a measured pace.
After the intermission, two compositions of Bach followed. The overture from the Suite in G Major opened the second half, followed by six additional dances. The orchestra played with stately measure, led ably by Mr. Metcalfe, which moved into a quicker paced section accompanied by lively and subtle woodwinds. A series of dances came next, led by a gavotte. A slower paced sarabande included fine solo work by the oboe section. Next a bourée developed with agile work on the part of the woodwinds, echoed nicely by the strings. The air grave slowed the pace with lyrical dignity that preceded a classical minuet that had some nice flourishes. This work concluded with a gigue that picked up the pace, offering a little extra saunter. The whole composition was vivid and transporting.
Conductor Scott Metcalfe prefaced the final compositions on this winter concert program by Michael Praetorius and Samuel Scheidt. Mr. Metcalfe spoke about the enormous volume of work Praetorius composed, which sometimes was only partially transcribed and completed. Scheidt's "Duo Seraphim" was sung dramatically from the balcony, contributing to the atmosphere of an earlier time and place. The "Puer Natus in Bethlehem" was sung by two balanced small choral groups facing each other on stage that included nicely balanced upper and lower register voices. A fine soprano voice was accompanied by bassoon, cello and harpsichord. Three of Praetorius' works closed the afternoon concert bringing out a larger instrumental ensemble and additional soloists. "A child is born in Bethlehem, therefore Jerusalem rejoices" was next. Laconic strings connected with lustrous solos by three singers, offering a fine blend of celebration, supported by the chorus blessing the gifts for the Christ child. Strands of contrapuntal praise punctuated and supported the chorus. A strong sense of the rising Rose occurred. The Praetorius song was the source of a famous Christmas carol and was graceful. "Singet und Klinget" was next with four excellent women soloists replacing the original composition's boy singers. Ascending voices of praise rose, contributing to a lingering warm flow that was complemented beautifully by the orchestra and chorus, leading to the subtle conclusion to this concert celebrating the Mysterium.
BOSTON EARLY MUSIC FESTIVAL CHAMBER OPERA: Series Gala Concert
Paul O'Dette and Stephen Stubbs, Musical Directors; Robert Mealy, Concertmaster; Gilbert Blin, Stage Director. With the BEMF vocal and chamber ensembles.
Sunday, December 1, 2013

This year's holiday concert by the Boston Early Music Festival featured memorable arias and ensemble work taken from the past several years of BEMF chamber operas over the period from 2008 until the present. Featured operas included "Dido and Aeneas," "Venus and Adonis," "Actéon," "Acis and Galatea," "La Descente d'Orphée aux Enfers" and "La Couronne de Fleurs."
The Ritournelle from "Dido and Aeneas" opened the program with a spritely step, woodwinds soaring as the soloists entered in elegant costuming. Soloist Amanda Forsythe sang with a rich and well enunciated soprano, intoning "I am Music and can inflame the coldest hearts," aspiring to Heaven's lyre. The audience was early made to understand that music is more powerful than Hades' dark forces and all nature halts and stoops in music's presence. Teresa Wakim's solo with the vocal ensemble was nicely shaped within the larger ensemble, which broke into small groups around the guitar and lute, lending a Spanish guitar-like resonance. Ms. Wakim's voice soared with the plaintive strings and fine recorder playing. Douglas Williams' strong and flexible bass joined the group. It was so nice to hear that Mr. Williams' bass is stronger and more flexible than ever and he added an operatic, dramatic presence to the stage. Happy his star keeps ascending!
John Blow's "Venus and Adonis" came next on the program, intoning "Come Shepherds, all" in a lovely ensemble that featured Jason McStoots, Teresa Wakim and Douglas Williams who were joined by harmonic vocal and orchestral ensembles. The staging here as the company moved around the hall was engaging to watch. "In the sweet groves" added satisfying vocal embroidery again with good use of staging the singers around the orchestral ensemble. Strings and recorders shifted readily between quick and slower tempi. Amanda Forsythe's "Adonis" lament was heartfelt and soaring, joined by Jess Blumberg's wounded Adonis that evolved into a rich vocal dance of death duo. "Mourn for the Servant" followed with a mournful ensemble around the heroine. The death scene was beautifully framed and resembled some of the liturgical music of that period.
Charpentier's "Actéon" summoned Teresa Wakim's companion nymphs and Ms. Wakim's dulcet singing: "Let us be unafraid of the reflection of our beauty" and "Charming fountain, how sweet is your fate!" Even the rivers might be made jealous with this lyrical beauty! Mellifluous female and male singers shone accompanied by Baroque guitar and long-necked lute. A lovely duo between Ms. Forsythe and Thea Lobo followed asking us to "not be seduced by evil and darkness" and to not fall into the flower covered traps of love! Recorders were very French and courtly. Aaron Sheehan, tenor, made an elegant Actéon, singing "I know love only by reputation." His singing was fluid and fine as he defended himself singing, "Goddess of Hunters, hear my defense!" The pairing of Teresa Wakim and Aaron Sheehan was inspired.
Following intermission, Part II featured works from Handel's "Acis and Galatea," beginning briskly with recorders and oboes that added early flavor. The orchestral ensemble was excellent and highly engaged as the chorus sang about the pleasure of the plains. Music was resonant, lending a contrapuntal flow, showcasing the soloists on-stage to maximum effect. A gorgeous operatic, multi-stranded texture flowed forth, contributing to one of the concert's finest moments. Ms. Wakim sang an elegant aria about her search for a soaring bird that included lovely solo recorder. Mr. Sheehan then delivered a beautiful and full-hearted aria. Jason McStoots' high tenor was delightful to hear as he sang another aria to the shepherd, followed by lustrous performances by Mr. Williams and Zachary Wilder's voice of reason. Mid-performance, a noteworthy orchestral interlude included recorders, guitar and theorbo followed by five singers who were powerfully well matched, stitching alternating bright and dark jewels of sound. The Handel was exceedingly well performed throughout and another high point for this afternoon concert.
"La Descente d'Orphée" of Marc-Antoine Charpentier opened with a terrific trio of Mrs. Wilder, McStoots and Blumberg who sang of Hades' torments. Mr. Sheehan reprised his role as Orpheus with fine aplomb, amazing the torments and lending zesty fire to the viol da gamba and guitars. The framing on-stage by the chorus was highly effective and enjoyable.
The final operatic vignettes were drawn from Charpentier's "La Couronne de Fleurs," whose central theme is that "For in noble and beautiful things, it is enough to have tried," a strong concession to human and not supernatural capabilities. Orchestral playing was both spritely and courtly, when appropriate. The "lovely flowers" duo performed by a group of female soloists was joined by the full chorus. This opera was a fine and stately paean to the Court of Louis XIV and wove a sumptuous tapestry around the entire audience. Following very happy audience applause, the group performed an encore, "If Music is the food of love," which continued to unroll the courtly, fine embroidered music of the whole afternoon.
This was a delightful afternoon of superb singing, playing and elegant staging by the Boston Early Music Festival.
CHAMELEON ARTS ENSEMBLE OF BOSTON: Music of Schumann, Poulenc, Arensky, Schwendinger, and Kulesha
Tessa Lark (violin), Deborah Boldin (flute), Rafael Popper-Keizer (cello), Margaret Phillips (bassoon), Scott Woolweaver (viola), Kelli O'Connor (clarinet), Vivian Chang-Freiheit (piano), Elizabeth Schumann (piano), Nancy Dimock (oboe), Clark Matthews (French horn)
November 3, 2013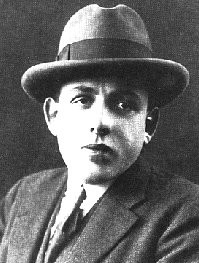 The second concert program for the Chameleon Arts Ensemble's 2013-2014 season was very eclectic, ranging from Francis Poulenc's early modern Trio for oboe, bassoon and piano to the lush romanticism of Robert Schumann's Märchenerzählungen and Anton Arensky's Piano Trio. Contemporary pieces composed by Laura Schwendinger and Gary Kulesha were heady, often including some minimalism and literary references. The ensemble played with virtuosity, deep lyricism when called for, and inventiveness.
Francis Poulenc's Trio opened with bright percussion on the piano followed by a mellifluous bassoon and oboe duo. The Lento-Presto included wonderful musical architecture -- keen listening between the three players, a solid pivot within. Vivian Chang-Freiheit's piano was appropriately subtle, allowing the bassoon and oboe to shine in the foreground. The Andante continued the sonority with particularly rich low range bassoon work by the excellent Margaret Phillips. A strong and modern sense of reverie developed. The Rondo again was spritely with excellent sustained phrases that included no breathiness. Ambling piano and magical woodwinds swooped the performance to a quick closure.
The modern American composer, Laura Elise Schwendinger, came next with her graceful, cerebral and deeply imaginative High Wire Act, composed in 2005, inspired by the wire circus figures of sculptor Alexander Calder. Composed in five movements, a sinuous and hesitant flute was joined by a flurry of minimalist, bird-like scurry, suggesting anxiety at the aerial height, as if the world faded away. This movement continued to search for a balanced center, ending on a final staccato note of resolution. The second movement, Tightrope, opened with tremulousness and sauntered forward, accepting anxious shadows, flute transcending at the same time as the cello and viola ranging deeper, more hesitantly. There is a very un-frilly violin and diffuse piano, suggesting a slow procession melting into space. Aerialist was more energetic, creating an image of balancing hoops and balls by jugglers in the air. A strangely fragmented lyricism developed: perhaps the aerialist was transcending the human body's limits! Flute and piano work here were superb. Trapped Bird plucked into a beginning with a trapped bird's fast heartbeat and pique. This was vivid with thwarted energy! High Wire Act concluded with Troupe Finale, featuring a summary of juggling, walking and a few stunts. Pyrotechnics flared through this very inventive composer's voice and consistently well played performance by the Chameleons.
Romantic composer Robert Schumann's late composed four sets of Märchenerzählungen ("Fairy Tales") followed. Particularly fine clarinet playing by Kelli O'Connor introduced the piece with flowing lyricism. The second fairy tale included more darkness and drama, suggesting the deep woods, perhaps, or a lingering witch among the trees. The third fairy tale included sonorous and flowing viola work by Scott Woolweaver and deeply poignant melodic development within the ensemble. The tempo picked up with more assertiveness, gaining strong support from the piano in the last fairy tale. There was sustained fluidity that shifted into another musical picture and kind of resolution for the composition wherein I was able to imagine the return of playing children at ease who have learned a few survival lessons on their way. Scott Woolweaver's viola playing was elegant, lyrical and fine throughout, perhaps the best I've heard from him for a long time.
Following the intermission, the ensemble performed the modern Canadian composer, Gary Kulesha's Six Bagatelles from the Devil's Dictionary with reference to the modern American satirist, Ambrose Bierce. Composed over a period of years, the composition included six musical portraits of various character types. 'The Dictator' was repetitive, badgering, and fairly subtle. 'Idiot' was plodding as well as possible then whimsically repeating with a mantra for life. 'Alone' rose like an untethered balloon affected by windy cross-currents before finding a clear center that suggested the image of a windmill's speedy, then faltering propellors. 'Cynic' was smart, abbreviated and glib, suggesting traffic sounds. 'Eulogy' showed the somber recognition of loss. 'Reality' was Stravinsky-like, framed in a hubbub of sound. Occasionally I could also hear the influence of Darius Milhaud, particularly when the composition came to a tidy swift closure.
The final performance was Russian Anton Arensky's Piano Trio in four movements played by violin, cello and piano. Tessa Lark's spectacularly rich violin was joined by Rafael Popper-Keizer's lyrical cello. This was an inspired performance by all three players, worthy of recording! The cello's deep voice summoned umber and fire tones. All three players showed tremendous maturity here. The violin and cello duo created a seamless tonal beauty wherein Ms. Lark's violin was a perfect partner for Mr. Popper-Keizer's majestic cello. The second Scherzo started out light, bouncy with glistening piano that ascended in an airy stroll via a raised octaval interlude. Cello began the Elegia, played with a profound sense of loss and grace, echoed by the violin's restrained tenderness. There was much muted dark power involved. The Finale brought the ensemble back to high virtuosity with its declarations, suggesting a long tone poem. This was a fabulous final piece for a consistently engaging, lyrical, and highly imaginative concert that featured lustrous playing.
The NOW Ensemble: Burke, Snider, Greenstein, Smallwood, Dancigers
NOW Ensemble at New College New Music, Sarasota, FL
September 20, 2013

The NOW Ensemble is aptly named. They perform only new music; that is, 21st century music. Plus, the type of music they perform is unique. It tends not to be neo-romantic like Joan Tower's concertos or vivid tonal-constructivist like Paul Moravec's Cool Fire. I would categorize much (but not all) of the music as post minimalism.
The most successful piece performed this evening was Scott Smallwood's still in here. Played in the dark, it has a striking consistency of tone and a tranquil meditative mood, punctuated by occasional piano chords. You may be able to settle with it, but you probably can't second-guess it. The splendid musicians should be congratulated for memorizing the piece so perfectly they could play it seeing neither scores nor instruments. I am also fond of Patrick Burke's All Together Now, with its tight rhythmic clusters and interlocking rhythms. It is a high-energy piece with bold ostinatos and a furiously emphatic ending. I find Judd Greenstein's Change a moderately successful piece with a dancelike repetitive opening, which is eventually enhanced (but not transformed) by Mark Dancigers' guitar arpeggios. Sarah Kirkland Snider's Pale as Centuries has loose thematic development that is emotionally exploratory without a clearly defined sense of becoming. Greenstein's City Boy shows off its backbone of late Romanticism, striped by emphatic guitar chords and percussive effects from both guitar and piano. I like Dancigers' use of bass overdrive (also known as "fuzz bass") on this piece.
I heard an abbreviated version of Dancigers' Dreamfall earlier in the week at the University of Tampa's Sykes Chapel, a venue of questionable acoustics. I find it an intriguing work, but one in need of more musical ideas. Extending it by two more movements includes increased guitar involvement in II among other enhancements. Instead of thematic construction or musical evolution, there is much intangible poetry and diaphanous swaths of mist. The modern dancers that accompanied the music did not actually dance to it. They performed a series of tableaus, scurrying to various parts of the stage and holding positions for several seconds, then moving on. It was an inventive idea, but only partially successful.
Panamas off to New Music New College for encouraging such bold new compositions. In such presentations, the results are nearly always mixed, but that's the chance you take when your artists explore new territory.
PRO ARTE CHAMBER ORCHESTRA: Duparc, Zwilich, Mozart
Conducted by Kevin Rhodes
April 21, 2013

The Boston Marathon terrorists did not just sow confusion and carnage last Monday, they may have caused schedule changes in several productions in the Boston area. The opening piece in the recent Pro Arte Chamber Orchestra performance was originally Stravinsky's Concerto in E-flat, "Dumbarton Oaks." Possibly because of recent events, it was changed to the more serene and contemplative Aux Etoiles by Eugène Duparc, for whose end conductor Kevin Rhodes had requested a "moment of silence." In terms of paying respect, it may have been an appropriate gesture. Duparc's piece is an ethereal tone poem, devoid of conflict, development, or indeed, any excitement of any kind. It most closely resembles a meditation at a nineteeth century gravesite. Artistically, it falls far short of Stravinsky's lively ironic work from his neoclassical period. When he wrote it, Duparc himself was near the end of his composing career, which he terminated far in advance of his death, like his younger contemporary Jean Sibelius. Musically, it is a five-minute trifle, a true bagatelle, but one that the programmers apparently thought had to be heard at this time.
Far more intricate was the following piece, Shadows by contemporary composer Ellen Taffe Zwilich. In form, it is a piano concerto, splendidly played by its commissionee Jeffrey Biegel, accompanied on percussion by his son Evan. The opening movement served as a prelude, with its mysterious rumblings and portentous piano figures and chords. Enormous tension built up at certain points, only to shut down abruptly. For the first six or seven minutes, it was impossible to predict what was about to happen next. Soon faint hints of jazz inflections appeared on the piano, along with a judicious background use of snare drum percussion. The strings added to the pleasant and often mystifying mood that Zwillich intentionally established. The real centerpiece was the third movement, which is heavily jazz inflected, sporting clear influences of George Gershwin and Leonard Bernstein at the outer rim. The piano was quite rhythmic with a New Orleans aura, occasionally punctuated by a high-pitched solo clarinet that sounded like a refugee from a klezmer band. Including this one wind instrument was a nice touch, like a dash of Cajun spices in a hearty meal of gumbo. Again the furious activity broke off abruptly before there was a recap of its motoric intensity. Among Zwillich's most creative effects was the auditory illusion that the piano and the strings were operating at contrasting tempi at the same time, catching up only for the thrilling coda. This was a well conducted foray into unknown territory, leaving the audience in thrills as if exiting from the "Cyclone," that famous roller coaster ride in sixties Revere Beach.
A fellow audience member said that the final piece, Mozart's Symphony No. 41 (" Jupiter"), was masculine and I tend to agree. It opened at a faster tempo than I'm accustomed to, but that's all right. It's been recently revealed that in Mozart and Beethoven's time Allegro vivace was today's Presto. In this performance, the Jupiter had its thunderbolt tuttis, impish triplets, fine dynamic control, coupled firmly to a workmanlike devotion in the more serene middle movements. Rhodes' keen baton coralled the multiplicity of themes in the final movement without letting a single one escape. In the end, perhaps this amounted to a more fit salvo to the terrorists than Duparc's piece, the assertion that international thugs cannot hold back or even diminish the onslaught of such lean and muscular music.
BOSTON MODERN ORCHESTRA PROJECT: Perle, Ung, Crocket, Jacob, Yi
Conducted by Gil Rose
February 15, 2013

This Boston Modern Orchestra Project concert was another of Gil Rose's theme-based concerts with a catchy name. The pieces were Suite for Eight Violas (1975) by Gordon Jacob, Serenade No. 1 for Viola and Orchestra (1962) by George Perle, Singing Inside Aura (2013) by Chinary Ung, Viola Concerto (2012) by Donald Crockett, and, finally, Xian Shi (1983) by Chen Yi. The selections were disparate in style and affect; a listener certainly comes away with an appreciation for the range of effects from this instrument within modern music. The core of the concert was embodied in the pieces by Ung and Crockett. Finding the right array of pieces to showcase the viola and fill up the concert felt strained at times.
The first piece of the evening, Jacob's Suite for 8 Violas in 4 movements was a case in point. It starts with Dedication, a lush, romantic opening, with occasional flavor of Bach's Musical Offering and then parts that are reminiscent of Dvorak, occasionally Barber-like, occasionally neo-baroque.
The first movement was sometimes a little pitchy, and the same was true in the second movement, a Scherzo and Drone, which reminded me of Ravel or Vaughan Williams. A little modernity pokes its way in, but isn't at the heart of it. The Chorale was my favorite movement, a Kabalevsky-like movement, with sustained tones, elegiac with effective pauses for breath and nice chordal movement. The final Tarantella breaks out into a dance-like movement, but it is muddy without sufficient range. There's some nice contrapuntal filigree, but ultimately, it seems an unfocused movement, lacking in direction. It's not a piece I would imagine returning to, and it didn't feel like the orchestra would either. It seemed a warmup, and easily forgettable.
George Perle's Serenade is more successful. When we think of Mozart's serenades, we think of his lighter pieces, and while Perle's isn't a great piece, it's a nice experience. The Rondo is a modern piece, influenced by the Viennese-school, with atonal melodies, interesting counterpoint, a complex, rangy melody, an unexpectedly jazzy interlude with bass and drums. It has a contrastive slow section before its busy conclusion. The second movement is a slow ostinato. The recitative is an interesting movement, more linguistic, with multiple voices carried by the solo viola, which at times seemed to be talking to itself in the rhythms of speech. At times I found it hard to believe only one instrument was performing. The scherzo has a complex 7-beat rhythm with viola alternating with woodwinds in parallel thirds and sixths. The movement becomes more concerto-like bringing in all the performers. Finally, a coda returns us to the feeling of the start. The BMOP, under Rose's direction, extracted what there was to find.
Singing Inside Aura, by Chinary Ung, was really a fine departure from the expected. If you want your concert to be an experience, here's where the night's concert begins. This work by a Cambodian spectralist, features the singing of Chinary's wife, Susan, as a foil and accompaniment to the viola, sometimes doubling the melody, sometimes opposing it. This piece is a single 15-minute movement with a slow underlying pulse, a melody that floats up and down. Susan sings and plays the Cambodian melodies, dramatic, tense, building with bright sustained chords. There is time for long, slow breaths. Within the movement, the melody is often in unisons, initiated by the flutes, with spectral chords, sci-fi-like. There's always the slow pulse underpinning the glissandi. Sometimes you feel what seems to be the mood of Chinese opera. Later, the melody becomes almost a torch song. The drums insert themselves. There are bells. Then there's an ever-falling downward curve, always moving to a new chord, theremin-like, to a quiet denouement, with her own whistling. It's a really interesting piece, and Susan Ung carries it very well.
Crocket's Viola Concerto is another excellent piece, starting with shimmering, descending arpeggios, and points of brightness in the percussion. This opening Scherzo has descending percussive punctuation then rapid arpeggios and big chords. There is an interesting syncopated descending scale which leads to a quiet solo ending. The second movement, Suspended, generates the sound of thunder in the distance and languid, sustained viola, waiting, verdant. The distant thunder and sometimes Beethoven-like chords could remind you of the Pastorale, but the concerto never sounds derivative. Heavy and Energetic (and maybe a little ponderous) gives us an oompah feeling, and finally becomes melodic, but always with a rhythmic cadence below. There are rising triplet rhythms. This movement is restless, with emphatic syncopations in the low instruments and percussion. Finally, Fast and Furious channels Satie and Prokofiev. Crocket really likes syncopation, which carries this movement in many places. After a languid section, it builds to the end. .well, almost the end. (There are a couple of false endings.)
The final piece, Xian Shi by Chen Yi seemed more nineteenth-century in concept. Sometimes you hear echoes of Bartok or Prokofiev, but I had trouble understanding where this piece was headed. Many sections were interesting, with driving drums and quiet pizzicatos, strummed strings. There is a little code with Chinese-sounding melodic material. We hear scratchy slides upward and a vigorous viola punctuated by the orchestra.
The Ung and Crocket pieces carried the concert, but in some ways, I couldn't escape the feeling that BMOP wasn't fully engaged. Perhaps they felt as I did, that the musical choices were good and had many excellent bits, but ultimately didn't hang particularly well together. Occasionally, I think Rose missed some opportunities, and didn't build an emotional edifice out of the pieces. Note for note, the performance was excellent, but it was sometimes flat and a little mechanical. Perhaps it's because it's been a long winter, and we're all a little tired. Time for spring.
HANDEL AND HAYDN SOCIETY: Handel's Messiah
Harry Christophers, Conductor; Soloists: Karina Gauvin (soprano), Daniel Taylor (countertenor), James Gilchrist (tenor), Sumner Thompson (baritone), and the Handel and Haydn Society Chorus and Orchestra
December 2, 2012

This year's performance of Handel's Messiah started with fine attention to the shifting tempi and superb conducting by Harry Christophers. The orchestral texture was rich, the tenor solo by James Gilchrist magnificent for its soaring quality that swooped rather than strained. A choral interlude followed with good balance between the sections of the chorus. The baritone's intoning of "I will shake" was powerfully dramatic. Countertenor Daniel Taylor showed a stunning and effortless high range with great fluidity. His singing was both haunting and elegant, appropriate to the solemnity of this work. The chorus framed his singing with an ocean of sound: "He shall glorify." The countertenor returned with continuing lovely upper range singing. "Arise and shine to the glory of the Lord" burst open with choral flowering. The orchestra at this juncture played precisely and with nuance. Baritone, Sumner Thompson, sang with excellent range, marred by a slight degree of stiffness. His low tones were striking, nonetheless. "Onto us, a son is given" was sung powerfully, turning into a high point of the concert with balanced choral sections shining like a crown of jewels in the hall. Soprano Karina Gauvin sang with a lustrous and substantial voice before the chorus returned with heightened drama. The countertenor wove in "Then should the eyes of the blind be opened" when the soprano joined with great beauty of tone. The chorus followed, singing in little waves of expression sustained by the orchestra.
Following intermission, smooth and fluid choral singing showcased lovely tonal color in "Behold, the lamb of God", weaving in the darker minor strands. The countertenor's voice was jewel-like when he sang about Jesus' rejection -- "Behold, despised and rejected of men and acquainted with grief." The orchestra treated this section of the oratorio with weighty solemnity. The chorus swelled gloriously with a big, impressive sound that lost neither tension nor color. Mr. Christophers' conducting was keen as he adapted quickly to changes in tempo. The oratorio turned from full volume orchestra to another tenor solo that was textured and sung with deep conviction by Mr. Gilchristin "Behold and see." The baritone next delivered a thrilling solo that picked up the pace, becoming nearly operatic, followed by a brightly emphatic chorus. Trumpets swelled into the Hallelujah Chorus, and were thrilling.
Karina Gauvin sang the famous aria, "I know that my redeemer liveth" with excellent high range, inflection and embellishment. The choral singing following this was flawless. Trumpets accompanied the baritone's recitative "Behold, I tell you a mystery. . . We shall all be changed in a moment. . .at the last trumpet." The countertenor and tenor sang another fine duet, "O death, where is thy sting?" followed by the soprano's wondering "If God be for us, who can be against us?" All of this was performed with fine breath control, phrasing and emotion. The oratorio ended with the chorus swelling like a huge wave joined by trumpets and percussion, a fine ebb and flow denouement for a noteworthy performance of this masterpiece.
BOSTON EARLY MUSIC FESTIVAL: Claudio Monteverdi's Orfeo
Paul O'Dette and Stephen Stubbs, Musical Directors; Gilbert Blin, Stage Director; Anna Watkins, Costume Designer; Melinda Sullivan, Choreographer; Robert Mealy, Concertmaster; Kathy Fay, Executive Producer. Aaron Sheehan as Orfeo, Ryland Angel as Hope, Teresa Wakim as Proserpina, Mereille Asselin as Euridice, Olivier Laquerre as Plutone.
November 25, 2012

Orfeo, the first of all operas, opened with hearty playing by the horns in a processional. Orfeo entered with a flourish, singing "I am Music who quiets hearts" as the character, Music, holds her lyre. An instrumental ensemble accompanied Orfeo as he was joined by an assembly of singers praising him. A spritely and masked dancer (Carlos Fittante) joined the activity. Rich-voiced countertenor Ryland Angel joined the group as Aaron Sheehan's fine singing praised his love, Euridice. The costuming and staging here were well done, as heads were wreathed in pastoral splendor. Orfeo and Euridice's wedding followed with the solo dancer wearing horns on his head in neat contrast to the others. Mr. Sheehan's singing was splendid here as he began to fully inhabit his role, singing "How the woods and meadows laugh." The character, Silvia, intervened with dark foreboding as she let all know of Euridice's shocking death by snakebite, unrolling a carpet of high drama, grief overpowering joy, wreaths dropped on-stage in mourning. A duet by two males followed with beautifully nuanced singing, drawing forth the central tragedy -- "Time is the devourer of all things" over Euridice's dead body on-stage.
Following the intermission, horns again introduce Hope as he escorted Orfeo into the underworld. The countertenor Hope was a glorious to hear as he advised Orfeo that he could not stay in the underworld with Orfeo for very long. Chiron, the ferryman, a fine bass dressed in a long black cape, joined the group on-stage as flutes joined the lamentation. What followed next was a high point. Slow and mournful lutes joined Orfeo as he grieved, hoping to please Hades' king, Plutone. Orfeo held his lyre aloft, a harp joining the lutes followed by graceful horn playing. Scrolls scripted in both Latin and English were unrolled for the audience to read as Olivier Laquerre's fine bass sang in answer to his wife, Proserpina's pleas in support of Orfeo. Finally, Orfeo and Euridice were granted passage from the underworld to earth by Plutone with the specific demand that Orfeo cannot look back at Euridice behind him. Staging here was splendid with skull-faced singers, Chiron, Plutone and Proserpina, all intoning "Today, pity and love have triumphed in Hades." As Orfeo and Euridice moved forward, the masked solo dancer accompanied them, checking from one to the other with great caution but in vain as Orfeo did look back, sending his wife back to Hades. At the opera's conclusion, Echo answered Orfeo's deep grief as Orfeo pledged his lyre and music in Euridice's memory, alone. A rich tapestry of singing burst forth as Apollo, the sun-god, sang in consolation for Orfeo, reminding him that he must keep his mortal eyes on his heavenly rather than earthly rewards -- "Let us rise, singing to heaven" -- as the company covered Euridice's dead body in a sheet and we were reminded that "As ye sow, so shall ye reap."
This chamber opera production succeeded on many levels of performance -- soloists, instrumental ensemble, dancing and staging. Of the three Boston Early Music Festival chamber operas I have seen, this Orfeo was the best, based in particular on the high level of acting, dramatic staging, dancing and noteworthy soloists. Kudos to all involved with this dramatic and splendid opera!
THE RADIUS ENSEMBLE: Bermel, Bax, Holland, Ravel
Eran Egozy, clarinet & bass clarinet; Sarah Bob, piano; Jennifer Montbach, oboe & English horn; Jae Young Cosmos Lee and Omar Chen Guey, violins; Ashleigh Gordon, viola; Miriam Bolkosky, cello; Ann Bobo, flute & alto flute; Gregory Newton, bassoon; Anne Howarth, horn; Aaron Trant, drum kit
November 10, 2012

The Radius Ensemble gave another fine performance of its characteristic mixture of 20th and 21st century works. Most of the time, the playing was good and sometime it was even stellar.
The opening piece, Twin Trio by Derek Bermel, was as quirky and witty as his recent orchestral work Canzonas Americanas (but of course not at all like it). The audience didn't know what to expect regarding the direction of his musical ideas. This piece is based on the concept of twins acting like children always do, causing trouble and chaos most of the time. Could the clarinet and flute be the twins and the piano the mother? There are many high-pitched screeches in the clarinet and sometimes there are even playfully exploratory sequences, like in the andante segment of II. The glissandos in III reminds me of swaying swing sets in a playground, their intensity increasing in pitch and tempo, so that once in a while you could hear a childish whine. IV is the most tuneful segment, as the twins finally adopt a collaborative rather than a confrontational tone with their piano mother. Incidentally, there are some inventive piano runs throughout this movement, a rhythmic, almost dancelike sequence with a motoric finale.
The ensuing Quintet by Arnold Bax offered quite a contrast. A conservative piece for 1922, it is placid and almost bucolic, particularly in its opening mood. There was a Vaughn Williams style to the somber yet stately opening of its Lento. Jennifer Montbach's florid oboe alternately led the strings and disappeared into them, like an elusive sylvan beast. The piece's thematic development is very graphic, so much so that it reminded me of an early 19th century painting by John Constable. It ended in a light mood, a distraction perhaps from the madness of the time in which it was created.
Tracing Lines, a newly commissioned work by Jonathan Bailey Holland, owes a notable debt to the ostinato-itis of late minimalism; perhaps as balance, it injected a snare drum set to provide rhythmic bracing. Interestingly, when the drums were introduced a few minutes into the piece, the structure of the woodwind figures changed little. Once or twice I detected individual instruments breaking out beyond out of their tutti configuration, yet they soon reverted back to the original theme. As a coda, the composer introduced a curious vocalise that left the audience scratching their collective head.
By far the most impressive performance was Maurice Ravel's Piano Trio in A Minor. In keeping with Radius Ensemble tradition, one of the performers introduced the trio by providing personal impressions and a smattering of the piece's history. In this case pianist Sarah Bob described the work as if enthusiastically telling friends about a new lover. It was refreshing to hear such gushing enthusiasm about music. The players went on to perform this music of an era that was about to disappear. Ravel penned the work at the start of World War I and succeeded in conveying a feeling of life lived quickly, but also one scarred with glimpses of lurking terror. Between multiple outbursts of Brahmsian intensity, the Passacaglia beckoned backwards to the turn of the century, where there was hope and innovation, which both proved illusory. At the climax, the musicians furiously and frenetically poured themselves into it, like Ravel must have when he first created it.
CHAMELEON ARTS ENSEMBLE: Schoenberg, Kirchner, Wagner, Berg, Brahms
Vivian Chang-Freiheit, piano; Nancy Dimock, oboe; Gary Gorczyca, clarinet; Qing Jiang, piano; Elizabeth Keusch, soprano; Joanna Kurkowicz, violin; Rafael Popper-Keizer, cello; Scott Woolweaver, viola
October 7, 2012

A program of 19th and 20th century German composers is challenging by nature, but the rewards are potentially vast.
Last weekend the Chameleon Ensemble tackled the works of Schoenberg, Kirchner, Wagner, Berg, and Brahms, and overall the results were favorable.
Arnold Schoenberg's Ein Stelldichein [A rendezvous] for Mixed Quintet (1905) is what's often referred to as a "glorious fragment," like Mozart's Allegro to Clarinet Quintet in Bb (KAnh91/516c). It is so tantalizing, yet so ultimately unfulfilling, leaving the listener craving more. The quintet of Chameleons played its tenuous opening as if something ominous was about to happen, as they probed the edges of discovery. It had a sumptuous, almost lush patina, and flirted with atonality. It is the unresolved sister of Transfigured Night, composed six years previous.
Leon Kirchner's Duo II, as in the preceding Schoenberg piece, began tenuously like a small animal peering out of its burrow; but almost immediately darts out in an eager search for sustenance. Joanna Kurkowicz's violin played probingly in this one movement of frenetic runs and sudden decelerandos. This is a piece for a violinist who is familiar with other modern composers like Alfred Schnittke (whose violin sonatas Kurkowicz has recorded), someone who can gleefully poke the skin of tranquility. Qing Jiang's piano playing provided not only excellent accompaniment, but effective tonal color that lurked ominously in the shadows, sometimes bursting out on its own. A wrenching adagio ended the piece, slightly reminiscent of the fourth movement of Alban Berg's Violin Concerto (but containing quotes from Schoenberg).
Like the Siegmund "Spring Song" and duet with Sieglinde from Richard Wagner's Die Walküre, the composer's Wesendonck Lieder features poignant lyricism and thunderbolts of yearning. This is understandable, since the two were composed around the same time. Most of the time soprano Elizabeth Keusch sang the pieces gently, without the hysterics of impossible passion. I thought the third piece, "Im Treibhause" was sung a bit haltingly, whereas she performed "Schmerzen" in a more fluid style. Generally the pieces were disginguished with a sense of drama, but I think she could've focused more on the pathos-laden undercurrents of the (unrequited?) affair between Richard Wagner and Mathilde Wesendonck.
Alban Berg's Four Pieces for clarinet and piano received a no-holds-barred interpretation from clarinetist Gary Gorczyca and pianist Vivian Chang-Freiheit. The work went from the abrupt restless statement of I, to the placid drifting of II, to the playfully short series of clarinet effects (flutter tonguing, ghost tones, register extremes) of III, and finally through the multilayered IV, where languid, fin de siècle weariness competed with one angry piano-clarinet dialogue. Most memorably, the two players terminated this small masterpiece by letting it sink slowly into a descending, unresolved figure. Tasty.
The ensemble played Johannes Brahms' Piano Quartet No. 1 in G minor, Opus 25 just the way it should be: unreverentially. With stunning abandon, they corralled this warhorse with invention, and yes, even wit. It was one of the best performances of this work I've ever seen. I've always known that the word "climactic" applied to Brahms's uninhibited buildup of tension, but rarely do I see it so well embodied in a performance. Brahms' famous marcato chords were blade-sharp and the tempo was dizzying, particularly during the brazen repetitions of IV Rondo alla Zingarese, the famous "Gypsy Rondo." To make this movement, one of the most difficult in all of Brahms's chamber music, sound as if it was playing itself is a tribute to this ensemble's enduring skill.
BOSTON MODERN ORCHESTRA PROJECT: Skalkottas, Carter, Stravinsky, Spratlan
Conducted by Gil Rose
May 18, 2012

On Friday, May 18, The Boston Modern Orchestra Project gave its Jordan Hall audience a theme-based concert, four 20th-century works works, tied by our understanding of Apollo as "Apollon Musagè," from his role as leader of the muses. One of the muses is, of course, Terpsichore, and this is the muse underpinning the first set of pieces, 5 Greek Dances by the Greek composer, Nikos Skalkottas. Although Skalkottas studied with Schoenberg, and wrote a large number of atonal and 12-tone pieces, the pieces that he was known for in Athens were his more accessible pieces, 36 Greek Dances. BMOP played 5 Greek Dances (1936): Epirotikos, Kretikos, Tsamikos, Arkadikos, and Kleftikos. These pieces had a limited range, using folk music in a formalized way, similar to Brahms's Hungarian Dances. The dances used Greek melodies, alternating frequently between major and minor keys. The second dance, Kretikos, built over a bass ostinato, was spritely, with echoes of Copland and Ravel. The third dance, Tsamikos, was leisurely and romantic, with a tonal range reminiscent of Kabalevsky. The fourth dance, Arkadikos, showed off BMOP's resonant hall-filling sound, but the melody had an unfinished, awkward quality. The final dance had an energetic, pops-like quality. These rarely-heard pieces were pleasant, and showed off BMOP's warmth and potential for romantic performance, but were, in themselves, not particularly memorable.
Next was a more ambitious work, The Minotaur (1947), by Elliot Carter. It's described as his "most Stravinskian piece" in the program notes. It was meant for Balanchine (who was Stravinsky's collaborator on the companion Apollo piece later in the concert). Unfortunately, Balanchine was off to Paris at the time, so the plan. There are two scenes in this ballet -- one at King Minos's palace in which Queen Pasiphae engages in a tryst with a sacred bull, and a second, in which a labyrinth is built to imprison the Minotaur, which is killed by Theseus with the help of Ariadne. BMOP's performance has really wonderful drive, and a sense of narrative purpose. There are big announcements in the horns, and a really captivating 3-against-2 section. Delicate, small forces contrast percussion and brass. At times you can feel the breath of Stravinsky, with Rite-of-Spring-like passages, with repeated phrases, each time having a different accompaniment. There are poignant sections where a clarinet and oboe hover over the strings, contrapuntal episodes. Later, in the labyrinth, an ominous-sounding clarinet stands for the unwinding of the string. Always, there is a feeling of a story being told, moving inexorably. A rousing climax falls to a quiet finale. The entire performance is handled with clarity, energy, and a nearly literary quality.
The third piece of the evening is Stravinsky's incidental music to the ballet, Apollons Musagète. Unfortunately, in weight, tonality, and general musical content, this piece felt similar to the Carter piece, both using a similar musical language. I wish BMOP had played something more contrastive, like Lewis Spratlan's Apollo and Daphne Variations that ended the evening.
Spratlan's piece is really quite remarkable, rich and varied. Spratlan uses thin, high strings over a solid bass, builds primordially, like a Lewis Andriessen piece, using some of the same endlessly-rolling scales that Georg Friedrich Haas used in In Vain. Then begin the wonderful Robert Schumann-like theme and variations, initially played on the piano. Throughout the piece, this theme is used in a romantic, non-ironic way, but Spratlan is never far from comedic, and the theme does have comical variations, with large massed sounds and percussion, including triangles. There is a section with roiling scales, and frighteningly threatening horns, but quieter sections with big major chords over long sostenuto parts. He does have a section which reminded me of his earlier piece When Crows Gather, but then with haunting interjections of horn and strings. Then comes a coda-like section, reminiscent of something you might expect from Frederic Rzewski, with vigorous, rhythmic strings. He then returns to the original theme. This is an emotionally complex, interesting piece, restless, but structured, and Gil Rose and the orchestra delivered it authoritatively. Rose's handling of brass is often breathtaking.
Occasionally, I wish the string sections generated more emotional content. Still, the Apollo and Daphne Variations was the piece that made the concert for me. Skalkottas' 5 Greek Dances were friendly, accessible, and quirky, but not memorable; the Carter piece was performed flawlessly, interesting because of its Stravinsky-like manner, and as an example of his neo-classical mode, but lacking in Carter's more personal voice of the fifties and onward; the Stravinsky ballet seemed pale compared to, say The Rite of Spring or The Firebird. All of this is to say something I've occasionally felt before at BMOP concerts -- that the concert selection can be less exciting than the orchestra itself, and certainly, a theme-based concert like this one always has risks. If you don't know Spratlan's music, this was certainly a good introduction. It didn't hurt that the composer was in the audience, to take a number of bows. And it was a fine way to end the 2012 BMOP season.
CHAMELEON ARTS ENSEMBLE: Weir, Shostakovich, Schumann, Sirota, Enescu
Personnel: Joanna Kurkowicz (violin), Deborah Boldin (flute), Rafael Popper-Keizer (cello), Sergey Schepkin (piano), Vivian Chang-Freiheit (piano), Gary Gorczyca (clarinet), Elizabeth Keutsch (soprano), Scott Woolweaver (viola), Peter Sulski (viola), William Manley (percussion)
May 13, 2012

The final concert program for the Chameleon Arts Ensemble's 2011-2012 schedule included a mixture of nineteenth and twentieth century compositions from European and American composers. As has been the case for fourteen years now, the Chameleon Arts Ensemble continues to perform concerts that include well known and not widely known composers, helping to inform and entertain the audience at the same time. Lovely to have a program that mixes major, well known composers like Robert Schumann and Dmitri Shostakovich with the less well known Romanian composer, Georges Enescu, and two contemporary composers, Judith Weir (England) and Robert Sirota (United States).
Georges Enescu's "Impressions d'enfance, Opus 28" was first on the program. Written in 1940, the piece includes ten linked miniatures based on the composer's childhood memories. Strong violin developed a zesty solo with folk fiddle traits that swiftly swooped into a more profound place. Lyricism and virtuosity were emphasized here. The composition had a literary feeling to it throughout its vignettes. Piano was played without embellishments, enhancing the directness of the composer's musical memories. A soulful, full-voiced and emotional "Mendicant" section included haunting upper register violin played with a fluttering, singing voice, accompanied by swirling piano. A high pitched bird voice here was vivid, suggesting fragmented hovering when the bird was agitated by surprise. The piece returned to a principal melodic theme, interrupted briefly by a bird squawk, and finely cadenced piano rumination. Noteworthy was a windy stretch, suggesting a shocking cold blast, reminding us that nature is often turbulent, tumescent and bursting into a full palette. This was a thrilling performance that successfully showcased Enescu's powerful ability to meld romanticism and dissonance. It was one of the best performances of the afternoon.
American composer, Judith Weir's "Sketches from Bagpipes" came next. Composing the piece for clarinet and piano in 1984, Ms. Weir rejected avant-garde ideas, instead turning to folk music from the British Isles (along with other countries). Her primary concern is narrative. The Sketches began with an abrupt abstract suggestion of the surprise we have when bagpipes are played; they always carry a certain exotic quality. Staccato became more fluid until another surprise floated through during the cheerful and jaunty "Salute". The "Nocturne" opened as if we watched a bagpiper walking across night hills, playing a punctuated and brief interlude. The "Lament" was much more mellifluous for both clarinet and piano. Sounds were lustrous and swelling, using more of the lower clarinet range. Piano scintillated.
Robert Schumann's gorgeous lieder cycle, "Frauenliebe und -leben", included a stunning performance by soprano, Elizabeth Keutsch, and by pianist, Sergey Schepkin. Ms. Keutsch's singing was refined and deeply emotional, really a perfect channel for Schumann's pretty difficult lieder. Her singing of this cycle made this group of songs remain relevant in the twenty first century when little time remains for deeply thought out love songs and romanticism. Ms. Keutsch sang about a young and idealized object of love; her level of conviction and majesty powered the music. Sergey Schepkin's piano work was subtle, ringing and strong all the way. The cycle passed through all the stages of a young woman's attraction, infatuation, engagement, wedding and loss. In each of the associated songs, Ms. Keutsch sang with joy, enthusiasm, recognition and sorrow. My favorite of these songs was "Suber Freund, du blickest" (Sweet friend, you look), based on its gorgeous melody and Ms. Keutsch's conveyed sense of joy in love recognized and found. Her voice can soar, weep, howl and embrace joy, recognition and pain. We are very lucky to have her in Boston and Sergey Schepkin who is a versatile and sensitive pianist. Another absolute high point in the concert.
Following the intermission, the Chameleons performed American composer, Robert Sirota's "A Sinner's Diary", a confessional composition in nine parts. A percussive opening set up a strong rhythmic component which the strings twisted sideways. A finely played flute introduced lyricism, though the strings would not have it. Scott Woolweaver's viola did some "self examination" that was poignant. A subtle refrain followed with William Manley's percussion work and the piano with a return to the reflective solo viola. Anxious strings re-appeared with misgivings and flutterings, a more unbalanced flute (Deb Boldin), grumbling piano. The recurring motif with viola, flute and percussion reminded the audience of the composer's unresolved angst. Duo violas accompanied by piano created a swelling and thoughtful strain which then turned into dissonance with a shrieking flute and heavier percussion. Fine flute work followed, searching for meaning in this Diary, toward a resolution. Not an easy composition, the Chameleons performed this with appropriate intensity and reflection.
Dmitri Shostakovich's famous masterpiece, "Piano Trio #2 in e minor, Opus 67" concluded the program. Written for a trio of piano, cello and violin, Shostakovich wrote it at around the same time as he also composed his two symphonies, the Leningrad (number seven) and the Eighth. All of these were completed around 1943-1944, after the USSR had suffered millions of casualties and privations. The composer wrote the Piano Trio #2 specifically for his dead best friend, Ivan Sollertinsky; its intensity is entirely appropriate to the magnitude of his loss. The Andante began full of weeping, grief and subtlety wherein I could see a funeral cortège with very lyrical playing and an almost neoclassical piano thread. Great passion and anger came through the strings, followed by a frenzied dance with wonderful high register violin playing. The Allegro non troppo proceeded at a much quicker pace with fabulous piano playing by Mr. Schepkin (trained at the St. Petersburg Conservatory in Russia); there was no loss of control here. The Lento movement began with solemn piano playing, joined by heartfelt and lyrical violin and cello by Ms. Kurkowicz and Mr. Popper-Keizer. A pizzicato dance of death in reflection followed, again emphasizing the assured and grand piano of Mr. Schepkin. A nice gliding violin helped the trio slide into the obsessive melodic repetition central to the trio which in turn built into a more rhythmic and open canvas. Toward the end, the melodic dirge returned with nuanced and finely inscribed lamentation. Gorgeous playing by all three instrumentalists here and a fine way to end a high level concert.
HANDEL & HAYDN SOCIETY: Mozart Coronation Mass
Presented by the Handel & Haydn Society
April 29, 2012

George Frideric Handel's well known introduction to Act III of the oratorio, Solomon, "Arrival of the Queen of Sheba" (written in 1748) opened the final concert of the Handel and Haydn Society for 2011-2012 with verve and spritely woodwinds which provided a lovely weft through the strings' hubbub. The Queen of Sheba as depicted in the Bible came to Israel to test King Solomon's true breadth of wisdom as he was legendary in his time. She was happy to discover the accuracy of the myth and Act III is an optimistic, glorious paean of praise. The orchestra played the piece with good pacing and focus, a one movement delight that allowed the audience to enter the royal court and stay there for the rest of the concert.
Mozart's well known work, "Exsultate, jubilate", came next on the program introducing Teresa Wakim for her first Symphony-performed solo for the Handel and Haydn Society. Though this piece was originally composed for a favorite castrato singer of Mozart's, it certainly works superbly for a soloist of the caliber of Ms. Wakim who had previously been a long time member of the Handel and Haydn Society Chorus as well as being a soloist on several Grammy-nominated recordings with the Boston Early Music Festival. Ms. Wakim entered the stage in an airy dress and proceeded to sing the piece with a centered, full throated and bell-like soprano. She showed excellent capacity to swoop from the higher to lower range register in her performance which was a nice mix of vocal concerto and opera aria. She embraced the sacred and devotional realm of the work with balanced orchestral support. Her stage presence was excellent, the creamy tones in her a capella delivery completing the first movement refined and respectful. Versatility and mobility shone throughout this performance and Ms. Wakim and the orchestra partnered each other consistently well.
The orchestra then performed Joseph Haydn's four movement symphony, "Symphony number 85", popularly known as "La reine" (written for Queen Marie-Antoinette of France, the youngest daughter of Empress Maria Theresia of Austria). Opening with a great sense of stateliness, the first movement shifted into vivace, introducing a recurring graceful oboe motif. Fine blending of cellos, violins and a clear English horn strand came through. Conductor, Harry Christophers, helped the orchestra shape the symphony with complete precision. At one point, light pianissimo violin embellishment enhanced the dance-like menuetto:allegretto and brought me a vivid memory of having walked through the interior large hallways at Versailles near Paris. I could actually see candles burning in their holders and embossed peacocks in the wallpaper! A flute solo was played effortlessly. The finale:presto movement fully displayed the entire orchestra with bubbling vigor and a dance-like feeling that was always under the conductor's superb control. A fine performance.
Following the intermission, Handel's "Coronation Anthem number 1, Zadok the Priest" gathered an arc of orchestral strings sweeping in like billowing flags. The entire chorus was introduced with great pomp and rejoicing which included a wonderful blend of angelic sopranos, fanfare and hallelujahs. "Zadok the Priest", composed in 1727, had originally been sung at the coronation of George II, based on the King James Bible in which the anointing of King Solomon by Zadok and Nathan became part of English coronations in the year 973. The Handel and Haydn Society rendition of the piece was completely magnificent, beautifully conducted and transcendent. A fine introduction to the masterwork by Mozart "Mass in C Major, K. 317, Coronation" concluding this concert.
The Mozart Coronation Mass in C Major was a complete delight, including four stellar soloists. Soprano Teresa Wakim joined tenor Thomas Cooley and a gorgeous full chorus for the Kyrie Eleison request for divine mercy followed by the Gloria's full chorus and introduction of all four soloists who sang with superb feeling and balance. The full chorus focused splendidly on the tempo here, neither too quick nor slow; one soloist's voice turned to the next soloist with sequential grandeur. The Credo movement created a marvelous sea of sound with swells, ebbs and dark stretches, suspending us in the tapestry of melodic and harmonic richness. Mystical rejoicing was clearly suggested, the four soloists again returning with balance and tenderness, weaving into the large chorus' rich woven tapestry. Here the modulation from bright to dark tones, large to smaller universe was very, very powerful and successful. The Sanctus drew forth minor and major threads into a fine shine. Pearl-toned singing predominated for all four soloists in the Benedictus movement. I really need to note here that it has been rare in my concert-going experience over time to hear four soloists sing consistently with such musical balance and high quality, none trying to take over the stage. The Agnus Dei presented Teresa Wakim's music box-like voice, like a beautiful young woman taking her first vows. This Coronation Mass was a living and breathing masterwork performed with stunning versatility, conducting, and balanced use of the four soloists (all of whom were tremendous) along with the full chorus. An absolute jewel of a performance that should triumph on the recorded version of this altogether fine afternoon concert at Symphony.
FLANDERS RECORDER QUARTET: Reclaiming Bach for the Recorder
Presented by the Boston Early Music Festival
April 27, 2012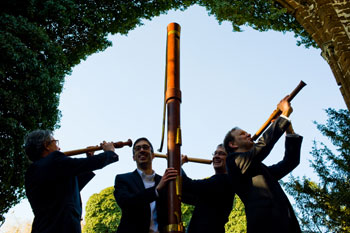 Playing the works of Johann Sebastian Bach on recorders is an extraordinary feat in two respects. First, to do it well, the players must obviously be accomplished musicians. The works of Bach demand not only extreme virtuosity but also a touch of creativity. Secondly, the group must be made up of skilled arrangers. I can't imagine a consort like the Flanders Recorder Quartet (FRQ) using the same arrangement of The Art of the Fugue as the Emerson String Quartet did last year. So how did they succeed with their own?
Stunningly. World-class. Even within the cavernous acoustics of Cambridge's Sanders Theater, these players skillfully nailed the essence of works like Bach's Concerto in A Minor, BMV 596, (itself an arrangement of Vivaldi's Opus 3, RV 565). At first the tones came across a bit quietly, as if from an organ in a too-large cathedral, but that almost didn't matter. So inventive were the arrangements that one's ears quickly adapted to any deficiencies of projection. And astute listeners could probably discern the clickety sounds of the bass recorder keys, which produced percussive effects. It doesn't matter whether they were intended or not, they were fascinating to hear.
Like me, many in the audience were undoubtedly awaiting the quartet's rendition of the famous The Art of Fugue. The FRQ has been playing this work for years; indeed, there is a recording from the 90's of just these selections. In Contrapunctus 1, the soprano voice was persistent and sparkling, with a tantalizing pause near its end. This work almost seemed designed for this quartet. The opening bass notes of the Passacaglia in G minor was riveting and organ like. Most notable was the wondrous false ending.
Unintendedly putting the Bach works in sharp relief, the FRQ included a piece (Concerto in F Major) by the florid (but not as profound) Georg Philipp Telemann. Here the arrangement was not so inventive. A slow tutti opening was perhaps not the best choice – possibly a single voice would've been more haunting – but it was soon enveloped by the allegro's river of pure virtuosity and scintillating wit.
The rest of the program was filled with jaunty, effusive, peripatetic melodies featuring exquisite breath control and creative runs that probably would've drawn enthusiastic applause from Bach and Vivaldi, were they revenants wafting about in the balcony. A comedic encore ensued in the style of Victor Borge, with the FRQ showing considerable skill at playing partially-filled bottles (glass harmonica anyone?), and a hokey "romantic" piece with mugging reminiscent of Harpo Marx.
SANDRINE PIAU AND SUSAN MANOFF: 19th and 20th Century Lieder at Jordan Hall
Presented by the Celebrity Series of Boston
April 21, 2012

She may be the greatest unknown opera singer by the American classical music public. Not a "glamourpuss" in the traditional sense, she is as gamine-like as the young Leslie Caron but with far better pipes. She's not contracted with EMI or Universal, rather she records with a modest French label called Naïve. Equally adept at singing lieder and opera, she never descends into diva-hood.
In her April 21 performance at Jordan Hall, Sandrine Piau put on a near flawless performance of 19th and 20th century songs. Oddly, most were from her album of last year, Après un rêve, not the one that was just released last month, Le Triomphe de l'Amour. But that's fine with me, I'm glad she chose songs with contemporary content, since she has been known as performing mostly Baroque works.
She displayed an extraordinary stage presence, completely enfolding the ¾-filled hall with every piece. Since she is not histrionic or mannered, she is free to be genuinely dramatic. The looks she gave while singing Mendelssohn's difficult "Hexenlied" were both impish and menacing. In the more subtle "Schlafloser Augen Leuchte" she sang the sad repeat of the final line, creatively shaping its slight difference with the previous one. She has not a trace of self-indulgence. Her Faure interpretations were lovely and languid, particularly when she sang the words "weeping without end" in Verlaine's "Prison." So believable, so heartbreaking. Her melismas were sensuous like caresses, particularly when she sang"ô nuit mystérieuse!"
Chausson is difficult to render dramatically, but she got through to his work from below, through its lyrical roots. Although lacking strong musical ideas, the song "Dan la forêt due charme et de l'enchantement" drifted into ultimate poignancy at the end, with Piau acting as if she herself were once enchanted, then wrongly deceived.
Her rendition of four Richard Strauss songs (no, not the "Four Last Songs," not yet) were expertly handled. In "Die Nacht," her pregnant pauses between each word of "Dich mir auch" were so chilling I wanted to hear her repeat the song. In the lied "Ständchen," bolts of joy shot through this simple love song and Piau delivered them as smoothly as summer kisses.
The contemporary composer Vincent Bouchot, a year younger than Piau, wrote a song cycle based on the bizarre proto-surrealist poems of Christian Morgenstern. While singing "Die Mitternachtsmaus" ("the Midnightnouse"), she peered distractedly at the ceiling as if at an intrusive bat, only to deliver a song about a weird being Morgenstern probably concocted to scare young children. Her gestures conveyed hidden meanings behind the archly melodic songs, perhaps showing Poulenc's nefarious influence.
Speaking of Poulenc, he was well represented in this concert as well, with songs ranging from the sultry and cabaret-like "Montparnasse" to the lively and ironic "Hyde Park." She ended his section with a fast and furious "Fête Galantes," lyrics written by that left-wing radical Louis Aragon, then returned to Poulenc for her encore ("Voyage" by yet another surrealist, Guillaume Apollinaire, along with Debussy's lullaby "Bonsoir").
Three songs by Benjamin Britten closed the formal program and were they stunners! My favorite was "The Salley Gardens," text by William Butler Yeats. Without a trace of vibrato, she embodied the aching regret of this famous poem. I wished she hadn't ended with the pious "I wonder as I wander," an uncommon Christmas hymn composed by Britten with lyrical intensity and a haunted edge. Yet she was able to perform that with such earnestness that its silly religiosity became quite secondary.
This review isn't complete without mentioning pianist Susan Manoff. More than an accompanist, she imparted a light and creative touch to the works, a style that particularly shined in pieces like "I wonder as I wander." The song's peculiar structure, which trades solo parts between singer and pianist, emphasized her artistry, which stood in high relief.
I hope these two musicians return to the United States and have many more concerts. More people should know about this extraordinary singer and her skilled co-interpreter of these stunning lieder.
HANDEL AND HAYDN SOCIETY: J.S. Bach, St. Matthew Passion
Conductor: Harry Christophers with Young Men's and Women's Choruses. Soloists: Joshua Ellicott, Evangelist+ Matthew Brock, Jesus+ Gillian Keith, soprano+ Monica Groop, mezzo-soprano+ Jeremy Budd, tenor; Stephan Loges, baritone
April 1, 2012

I arrived at Johann Sebastian Bach's St. Matthew Passion with great expectation and was heartily rewarded by the concert performed by the Handel and Haydn Society at Symphony Hall this year.
A sense of aching was planted in me right from the opening orchestral chords and flourishes, arcing with the introduction of the chorus and weft and enunciation of the soprano soloist, sung around the text, "Behold him, himself, carrying the wood of the cross." There was lively sustained movement of the primary melodic line between choral sections; emphatic voices intervened nicely. The Evangelist and Jesus were introduced, followed by nuanced choral singing. The Evangelist developed the idea of Jesus' impending death with great heart, surrounded by swirling choral work. Rich alto singing followed around the text line, "Guilt and pain break the sinful heart in two." Though not a large voice, the alto's voice was very rich like a large nightingale. Her voice filled with lamentation and beauty without any strain. The legend of the thirty pieces of silver was mentioned, followed by the soprano's singing of the loss of Jesus with excellent modulation, drama and indignation. Again, she sang with fine clarity. The Evangelist and Jesus returned with Jesus acknowledging that one disciple would betray him. The chorus here sang with great beauty, acknowledging human failure. Jesus suggested that all should drink from the cup holding his blood. The soprano returned in mourning. Her fine aria followed, niceoly supported by the woodwinds. The chorus singing that followed was heartfelt, reflective and topnotch, showing acceptance and serenity. The Evangelist sang with lamentation as Jesus requested that a disciple or two stay with him, showing his human fear. The tenor and chorus partnered the next section with radiance and shock, acknowledging the scorn and degradation experienced by Jesus. The tenor in particular sang with a swelling voice full of soul, held aloft by the chorus. This singing was moving because of the musical balance between clarity of voice, control and modulation between the tenor and chorus. It was a real high point of the concert. The bass followed, sharing the cup and cause Jesus offered and his voice was weighty and emotional. Suffering became sweet with the first drink from the cup. Jesus acknowledged his fear as a human being and the chorus followed with glorious full-sized fervor around the text line, "God is ready to help them that firmly believe in him." Jesus was captured and the soprano and alto soloists sang in duet of the end of moonlight in sorrow as the chorus yelled to release and not bind Jesus. This singing was mellifluous, very dramatic, followed by a storm of choral singing. Jesus then reminded all to put their swords away as he who lives by the sword shall die by it, as well, and acknowledged the fulfillment of the scriptures through his sacrifice. A finely woven tapestry of lamentation, praise, joy and acceptance completed Part I.
The alto opened the second half of the St. Matthew Passion with acknowledgment of the loss of Jesus: "Ah, my lamb in tiger's claws!" Richly stitched singing was followed by the Evangelist's description of the multitude's condemnation of Jesus. A tenor aria followed about the deception of tongues and the injustice to the condemned man, again showing beautiful mobility of tone. Jesus sang with great heart about sitting at the right hand of power. The Evangelist sang with drama and soul that the cock crowed, following Peter's denial of knowing Jesus. This was a fine dramatic moment sung slowly to let the weight of the ensuing tragedy sink in.
The alto sang for God's mercy to the concertmistress who stood to play her solo violin with great feeling, representing another high point of the concert, both musicaly and dramatically. The orchestra framed this duet gracefully. Reconciliation was sung by the chorus with modulation between crescendo and diminuendo, Judas admitting his betrayal. Vivid string playing followed, conducted with verve and fine form by the conductor. The choral principal melody returned, linking human and heavenly visitors with tremendous drama in the chorus, followed by the salvation of Barabbas over Jesus. The recitative and soprano aria with flute accompaniment that followed was stellar, emphasizing Jesus' complete innocence. Pilate recognized Jesus' innocence and the alto sang with brilliance, hoping to awaken the crowd to the tragedy.
A lovely orchestral interlude followed, framing the alto. Mockery of Jesus in his purple robe and scourge, his crown of thorns was presented in a sort of musical "double entendre" in the text line, "Let me hail thee!", which was both mockery and true to Jesus' transcendence. As Jesus was led to his crucifixion, the bass sang an aria about the weight of flesh and blood that was really gorgeous, showing his excellent range and flexibility, accompanied by Baroque cello. Jesus continued to be mocked and challenged with an unrelenting chorus. Alto followed, accompanied by Baroque bass and woodwinds, reminding the chorus to seek Jesus' redemption. The Evangelist then accounced the hour of Jesus' death and Jesus asked for God's protection. The chorus repeated the main melody with muted subtlety, followed by the Evangelist's powerful rendition of the rending asunder of earth and all else in creation. A rich bass reminded the world to let in the sweetness, innocence and redemption of Jesus, accompanied by a joyful orchestra around the next line, "Make thyself clean, my heart." All soloists and the giant chorus bid good night to the dead and entombed Jesus. The orchestral playing was golden, dynamic, a wonderful pulling back to the beginning and to the resting place.
This was a truly marvelous concert, one of the finest this reviewer has attended in thirty years of living in Boston.
THE CHAMELEON ARTS ENSEMBLE: Schumann, Mahler, Berg, Harbison, Korngold
Deborah Boldin, flute; Vivian Chang-Freiheit, piano; Gloria Chien, piano; Nancy Dimock, oboe; Elizabeth Keusch, soprano; Sean Lee, violin; Kelli O'Connor, clarinet; Rafael Popper-Keizer, cello; Katherine Winterstein, violin; Scott Woolweaver, viola
March 25, 2012

Many musical groups in the Boston area are starting to perform 20th century and contemporary works more frequently. Many of the works are quite familiar to the listening public. Bartok string quartets, Schoenberg's Verklarte Nacht, the early works of Stravinsky, and so on. It takes a unique group to perform works that are genuine buried treasures. There are many such works available for performance that are both extraordinary and virtually unknown to most listeners. So how can we find out about them?
Attend a concert of the Chameleon Ensemble, like the performance of March 25. For example, very few people have heard Robert Schumann's Two Romances for Violin and Oboe. Nancy Dimrock and Vivian Chang-Freiheit played these sweet and delicate pieces, composed by Schumann late in life. Dimrock's playing varied from smooth and soft to powerfully expressive. Chang-Freiheit's piano accompaniment was controlled, even masterful at times. Some artists tend to play these pieces with a bit too much sentimentality, but Dimrock did not. Her vibrato was solid and her phrasing impeccable. It was like reading private love letters from Robert to Clara, without the turbulence.
John Harbison's Book of Hours and Seasons is a curious song cycle. You will drive yourself crazy trying to figure out how the turgid poetry of Johan Wolfgang von Goethe fits into its musical themes. My advice: give up. Ricardo Wagner also gave this advice to his paramour Mathilde Wesendonk when she complained that she couldn't match the music with its words when attending Tristan and Isolde. "Forget about the words!" he chided. "Listen to the music!" Soprano Elizabeth Keusch handled the round sonorities and craggy assents with verve and skill. Some of the songs have a wan darkening quality that often increases in intensity. Anxiety resides between some of the poetic lines, only to burst out and startle the listener. So intense is the singing that Harbison supplies an instrumental interlude, perhaps to dilute the tension. It features rhythmic music with fine interplay between instruments, such as that between the piano and the cello's pizzicato. Bolden's flute is particularly notable as it weaves around the central melody.
Gustav Mahler's Piano Quartet in a Minor is a callow work, done in his school days. It is a real curiosity from the mid-1870s, filled with Brahmsian Romanticism. There is a mournful adagio and, at the end, a tantalizingly vivid figure (but a short one) on the violin, maybe presaging more prolonged dramatic moments in his late symphonies.
Alban Berg's Adagio from Kammerkonzert for Clarinet, Violin & Piano was originally part of the Chamber Concerto for Piano and Violin with 13 Wind Instruments (1925), yet was arranged as a separate piece in 1935 for piano, violin and clarinet. It really needs to be heard more than once, as the interplay between the instruments is quite intricate and challenging to follow on first listening. Are the instruments playing together or obliquely? Do they truly complement each other or do their statements border on each other, teetering at the edge of independence? The work is made more complex by the fact that it is a musical palindrome, like his Wozzeck. Nevertheless, it has genuinely poignant moments that remind me of parts of his famous Violin Concerto from the same year.
It's easy to see that composer Erich Korngold had it in him to compose for the movies. His Suite for 2 Violins, Cello & Piano Left Hand, Op. 23 is bursting with dramatic effects and hyper-stylized themes. It was yet another work commissioned by the one-armed pianist Paul Wittgenstein. (It was Wittgenstein's second commission for Korngold; the first was the Piano Concerto for the Left-Hand.) The Chameleon Ensemble's performance was fresh and sublimely romantic, more suited for the 19th century than the 20th perhaps, but that's all right. The players conveyed the piece's dizziness and intensity, along with its forays into restless invention. They were able to characterize how the piece possessed it's unique ability to pick the right thematic directions, out of the many that itcould have. They corralled its propulsive restless spirit. I commend pianist Gloria Chien for the exhausting work of playing the piano with one hand, and doing it so indefatigablely. Her introduction was stormy and declarative, glimpsing the inner strength that emerged later. The string performers — Katherine Winterstein, Sean Lee, and Rafael Popper-Keizer — played with restraint, yet one welded to the passion of youth that Korngold no doubt intended. I have heard that Wittgenstein was a hard man to please. He didn't care for Prokofiev's 4th Piano Concerto and rejected Hindemith's Piano Music with Orchestra Op. 29. But he did so like Korngold's suite and probably would've enjoyed this performance.
HANDEL AND HAYDN SOCIETY: Christmas Concert
Conductor: Steven Fox; Soloists: Margot Rood, soprano; Emily Marvosh and Thea Lobo, alto; Stefan Reed and Murray Kidd, tenor; Jacob Cooper and Bracford Gleim, bass
December 18, 2011

The Handel and Haydn Society offered a wide-ranging, ethnically diverse Christmas concert this year at Jordan Hall including familiar Baroque cantatas from J.S. Bach along with a couple of eighteenth century American folk tunes. Three other major compositions from Bolivia, Mexico and the Ukraine rounded out the program and offered tremendous diversity, allowing the 21st century Boston audience to hear music that has not been performed much previously. Conductor, Steven Fox, joined the Handel and Haydn Society chorus and orchestra for the first time this season bringing prior conducting experience with the New York Clarion Music Society and Music Angiqua St. Petersburg in Russia.
J.S. Bach's early cantata, "Ich freue mich in dir", opened the concert with spritely cello and bass work, joined by the Handel and Haydn Society chorus. The shape of sound was fine and made mellifluous with vigorous and elegant strings. The alto soloist, Emily Marvosh, had a rich and flexible voice which was nicely supported by the woodwinds. The cantata as performed felt authentic to my ear, offering claret-like tones. Tenor soloist, Stevan Reed, had a resilient voice. Soprano soloist, Margot Rood, swooped rather than strained toward the upper register and added light flourish. The inner mystery of this Bach cantata was explored with occasional unfortunate sharpness. Full chorus and orchestra were subtle, folding back into themselves like a fan made of music.
Sonatas Chiquitanas, a little known Bolivian piece by an anonymous composer, surprised the audience. The allegro movement offered very bright tones. Ensemble playing shifted to two string players, then back to the ensemble. The andante had a profound sadness with repeating motif. The players were very attentive to each other and joined by organ. The diminuendo glistened and presto returned to earlier brightness wherein I could almost see the dancers' gowns swirl over a parquet floor.
Manuel de Zumaya's Celebren, Publiquen began in exaltation with shimmering swells and eddies of voices tossed in currents. The lower range alto and bass voices were noteworthy at the beginning. Though exuberant and wonderfully performed, this was an abbreviated composition that made it a little difficult for the audience to grasp that it had ended so quickly.
Dmitry Stepanovich Bortniansky's Tebe Boga Hvalim came after the intermission. Ukrainian composer, Bortniansky, was a favorite of Catherine the Great. This was a lovely pre-Glinka composition without instrumentation. Very strong vocal performances included excellent soprano and bass work that was soulful, memorable and one of the high points of this afternoon of music at Jordan Hall. The ensemble singing was vigorous and attentive and composer, Steven Fox, was superb.
Two American songs, "The Shepherd's Star" (anonymous) and "The Apple Tree" by Jeremiah Ingalls included singing in the round, full of good sound and faith from a simpler time in America. Both of these songs included precise diction and story telling with lustrous tonality.
The Bach Christmas concert concluded with another Bach cantata, "Cantata V, Ehre sei dir, Gott, gesungen" from the Christmas Oratorio, a well known Bach masterpiece. All the soloists here were terrific and bass, Bradford Gleim, was particularly excellent. Instrumental playing was terrific in this difficult, complex composition. One felt surrounded by song as though one was seated in a garden of Christmas flowers. Tenor soloist, Stefan Reed, sang seamlessly here and bass, Bradford Gleim, sang with tender fullness, adding much to the performance. All of the soloists showed tremendous breath control and spirit and the cantata ended with a choral crown of radiant beauty. Wonderful performances by first rate musicians, across the board.
BOSTON EARLY MUSIC FESTIVAL: Europa Galante "New Faces and Old"
Conducted by Fabio Biondi
February 5, 2012

The European ensemble, Europa Galante, has developed international renown for performing operas by Vivaldi and Handel, along with Scarlatti oratorios. They have been nominated for the Grammy Award three times, most recently for their collaboration with mezzo-soprano, Vivica Genaux, on an album of Vivaldi arias, Pyrotechnics.
Antonio Brioschi's Sinfonia in D major for string orchestra with continuo opened the program with crispness and optimism. The piece was warmly infused, moving quickly between movements with lively interplay between the first and second violins. The violinist, Fabio Biondi, showed virtuosic strength, particularly in the final presto movement.
Angelo Maria Scaccia's Violin Concerto in E flat major presented dance-like motifs with a strong echo of Vivaldi. The violins played with zest and care and Mr. Biondi balanced virtuosic playing with the ensemble. Composer Scaccia was from Milan and actively involved in orchestral operas and concerts performed during Lent. The piece offered a nice blend of technical strength with a splendid cadenza, rhythmic variation and an extended "conversation" between the soloist and orchestra.
Vivaldi's Concerto for Three Violins in G major came next and the ensemble performed it splendidly. Vivaldi often treated each principal violinist as a soloist (like an opera singer singing an aria) and this was the case in this concerto. Mr. Biondi played double violin with elegance in the allegro movement. Fast broken chords and pizzicato at the beginning changed to the deeply emotional "weeping" quality of the largo. Golden threads alternating with deep purple brocade. This was a terrific, shape-shifting concerto containing lots of dignity and fire.
Haydn's Double Concerto for Violin and Harpsichord in F major was written by Haydn during the Esterhazy period; it was also Haydn's only concerto for two instruments. Beginning with a dance-like allegro, harpsichordist Paola Poncet wove silver webs of sound, joined by the red-gold violin tones. Ensemble playing was airy and elegant. Lute and cello added resonance to the middle when the harpsichord voice became more substantial, played with lots of heart. The final movement showed partnership at several levels -- between the harpsichordist and violin soloists and between the soloists and ensemble.
Bach's Concerto for Two Violins in D minor was played by Favio Biondi and Andrea Rognoni. I was delighted to hear one of my favorite Bach masterpieces. The two violins complemented each other beautifully and the ensemble was fully engaged. The largo movement was refined, deeply felt and sonorous; it was played more slowly than I have heard it done previously. I was moved by the mix of Mr. Biondi's embellished playing and Mr. Rognoni's plainer toned violin. The third movement provided a rich tapestry wherein the ensemble sounded as full as a complete orchestra.
Handel's Suite from Rodrigo completed the afternoon with a set of dances ranging from a gigue to a slower sarabande and minuet. The flexibility of the ensemble was highlighted, creating a ballroom of swirling dances and stylish curtseys. The bourrée movement draped a rich brocade. A clear link between Handel and the Italian Baroque shone through. The harpsichord playing was elegant and sustained throughout.
This was a lovely afternoon of music at Sanders Auditorium. Following a standing ovation, the group played a tempestuous encore, the perennial favorite "Summer" from Vivaldi's Four Seasons. It is a pity that this concert occurred on the afternoon of the Super Bowl. It deserved a much larger audience.
SOUND ICON : In Vain by Friedrich Haas
At the ICA theater. Conducted by Jeff Means
February 3, 2012

It was my good fortune to have been present for a performance of Friedrich Haas's In Vain at the ICA, performed by Sound Icon, a young, emerging orchestra, last Friday night. Everything I've read about Haas, and the subsequent reviews fail to capture just how amazing this work is, and how Sound Icon brought the piece forward as a large chamber work instead of a small symphonic work. Much of the discussion describes how dark In Vain is and much attention is paid to the use of lighting and its absence. But to start, I'd like to note a remark that was referred to in a New York Times review of the work in 2011:
Mr. Haas wrote In Vain as a protest against the success of the extreme right wing in the 1999 Austrian elections, although the piece "is too beautiful for the right wing," according to Mr. Haas.
Anyone approaching this work should play close attention to the words "too beautiful." It is extraordinarily so. Although Haas is mentioned as being a member of the spectralists, he draws his tone coloring and aesthetics from a broad variety of sources, and it's impossible not to hear echoes of Béla Bartók's Music for Strings Percussion and Celesta, or not to feel some associations with pieces by Terry Riley, such as Poppy Nogood and the Phantom Band, or not to hear moments when you feel the presence of minimalist pieces like Steve Reich's Music for 18 Musicians, or even reminders of WZBC music (like the show "No Commercial Potential") that local listeners might hear on Tuesday nights.
There are several major contrastive "movements" in this hour-long piece played with no break. The sections are generally either continuously busy, or slow and sustained. To start, the orchestra introduces the kinds of textures that define the rest of the piece. The opening feels preparatory, with long pedal points, to the descending scales we hear later, the ringing bells, the accordion and harp. After a few minutes, the ever-descending chromatic scale emerges. It is really magical, an impossible-sounding feat, passed among all of the instruments, like the M.C. Escher drawings of monasteries with their ever-descending stairways. There ought to be a bottom, but there isn't. A long cantus firmus in the brass signals a shift from the undulating filigree to a delicate microtonal arpeggiated melody in the harp. The lights go out for the first time for a short period. The orchestra starts a section with long, sustained tones, reminiscent of whale songs.
When the lights return, we have emerged into another long movement. This is a core movement, built from short sections, each about a minute long, each varied. There might be a two-note cord, sustained, and then horns will add to the top, or the bases will add a micro-tonal accompaniment. A decrescendo. It is full of sighs, pauses. This movement has the rhythm of slow breathing, each little section fading quietly. Each new section can be a surprise, or an echo, reminiscent of the last, with a new dissonance, a new color, a little waver. Frequently, the music aches with a frustrating desire to resolve a dissonant chord, often starting as a major chord but adding sevenths. The chords and little sections can evoke "sound logos." Occasionally, there is acceleration, or a gently rocking motion, or a rise in volume. But ultimately, we come to a whole-orchestra downward slide, and the section, fade-to-new section pattern continues. It's not until half-way through the hour that we return to the busy descending scale of the opening. But even that slows again with dissonant parallel chromatic scales against major chords, until we are back into the short, incrementally built sections, more micro-tonal accompaniment.
Here, at about 45 minutes into the piece, the lights go out again. The orchestra plays in absolute darkness. The darkness merges with the music. The lights are turned on momentarily, and sporadically, but at an increasingly rapid rate over the next minutes, during which new musical material, minimal and Reich-like emerges. We also hear the only section in which the orchestra is moving always upward, contrapuntally exploring a chromatic 2-note phrase. After all that has come before, it is a striking moment. The pace of the upward phrases accelerates, but finally it, too, slows and then begins the brilliant ending of the piece.
The chromatic upward lifting of the orchestra is answered by an equivalent simultaneous reappearance of the descending scale. Eventually, the descending scale takes over, speeds up, returns to the ever-downward intensity of the opening. And then, amazingly, while this rapid descending scale continues, a new, slow, controlling descending scale starts again from above, accelerating until it, too has fallen into the primordial buzz. Finally, a third repetition of this downward scale begins, but in mid-descent the piece suddenly ends.
I give enormous credit to the success of this performance to Sound Icon and its conductor, Jeff Means. The integration of the accordion and the harp into the piece, with the harp carrying much of the micro-tonality, sustained much of the feeling of listening to a chamber work. The difficult pacing of this long piece, with its pauses and sighs was spot on, always in motion, or anticipating, never boring. The brass and strings balanced each other very well. This was a modern, complex piece, and they simply got it.
I'd like to close by adding some compliments to the auditorium of the ICA. I've seen a number of performances there, some with closed curtains, others where Boston harbor was part of the performance. For In Vain all light was, not-surprisingly, blocked out. I was sitting in the very front row. The acoustics were perfect. No instrument seemed lost or muddy. Each had clear location. I don't feel like I missed a note of the piece. For an hour-long piece to pass this easily, this intensely, without ever a feeling of wishing that some part would be edited out is really wonderful. In Vain is described as disorienting, dark, and more. For me, it was a totally compelling experience. I was filled with joy at having heard such a confident, nuanced performance. If I were grading, I'd give it an A-plus.
BOSTON CHAMBER MUSIC SOCIETY: Exiled to Hollywood -- Outcast Artists in Southern California
Michael Reynolds, Cello; Mihae Lee, piano; and the animated Harumi Rhodes, violin; Chris Pedro Trakas, baritone; Randall Hodgkinson, piano.
January 21, 2012

It seems to me that I've spent more time at concerts in Kresge Auditorium in the last six months than I have in all of the rest of the time I've lived in Boston. Recent concerts there have listed towards the modern and post-modern and often embodying a vibe that comes from having MITs Evan Ziporyn and Gamelan Galek Tika -- that New York, Bang on a Can scene. But last Saturday afternoon I was treated to a concert of music by 20th century European exiles who found themselves in southern California, music coming from a very different direction. The flawless, balanced, understated performance by members of the Boston Chamber Music Society, supplemented by Chris Pedro Trakas, baritone, and Michael Reynolds, cello, recalled an era of early modernism, infused with the spirit of Schoenberg, Schubert, and Prokofiev.
The first piece of the afternoon was the Piano Trio in G minor by Castelnuovo-Tedesco, performed by Michael Reynolds, Cello, Mihae Lee, piano, and the animated Harumi Rhodes, violin. The first movement is romantic and frequently Brahmsy, sitting in the lower registers. But there were also echoes of Dvorak, as well as beautiful contrapuntal portions, folkdance-like sections. The second movement is more wistful, with melodies carried in the high register of Ms. Rhodes' violin, played with minimum of vibrato that let the melody emerge. The third movement, a rondo, felt more Russian influenced, a kind of even-more-tonal Prokofiev, and with a whimsical quality. The performers were confident and well-balanced, acting as a single unit, rather than three stars who happened find themselves on stage at the same time.
The second set of works was a selection of songs from the Hollywood Songbook by Hanns Eisler, performed elegantly by Trakas, with excellent piano accompaniment by Randall Hodgkinson. Brecht's anguished lyrics, some written specifically for Eisler, have titles such as "The Landscape of Exile," and "About Suicide." Poignant thoughts such as these from Hollywood Elegy No. 7 abound:
I saw many friends, and the friends
I loved the most among them
Helplessly sunk into the swamp
I pass by daily.
And the drowning was not over
In the single morning.
These are songs of exile from a man who was forced to flee Germany, and then, later, as a result of interactions with the House Unamerican Activities Committee, was forced later to flee America. Eisler was a student of Schoenberg. You frequently hear 12-tone incantations in his compositions, but you also hear the influences of Weill and Schubert. The short pieces were diverse in their style, at least within the range of the Lied, sometimes approaching sprechtstimme, sometimes dirge-like, sometimes more like a song from Winterreise. Trakas's performance acknowledged these varied sources, and he sang them in a varied, organic manner, always controlled, but with a great range of emotion. This set of songs was the high-point of the concert, both in artistry, and in conveying the sorrow of exile and loss.
Next came the three-movement Sonata for Violin and Piano, op. 44, by Ernst Toch. The first movement is wonderfully expressive, melodic and folky, and a delicate balance was created, particularly in the more-tonal dance sections between Hodgkinson's piano and Rhodes' violin above. The second movement, an intermezzo, begins in Schoenberg-like manner, then becomes rhythmic with tonal clusters. It ends with a spirited allegro, an atonal folk dance with an interposed tonal section, all clearly and assertively delivered by Ms. Rhodes.
Next up, was Four Indiscretions for String Quartet by Louis Gruenberg. The first movement of this rarely-heard piece is eclectic, opening with a nearly Copland-like feeling. Later, you can feel the influences of the early 20th-century Russians, with hints of blues. The slow second movement is languid and beautiful, and again, the quartet performed as though it were a single instrument. The final two movements continued in this vein.
The concert ended with two works by Erich Wolfgang Korngold. The first was a melancholy song from his work, Abschiedlieder, based on the poetry of Christina Rossetti, "Mond, so gehst du wieder auf." ("Moon thus you rise again.") What was most evident about this piece was the contrast between it and the Eisler songs earlier in the concert. Korngold's song is much more what we think of as a song in the 20th century. Throughout much of it, I imagined how easily it could have been transmuted into a moment from a Sondheim musical. Piano and baritone worked seamlessly together, right through the final fadeout.
The last piece was the Piano quintet in E major. Much of this work was well-developed, again showing Russian, romantic, and impressionistic roots, but the first movement, as well as the second and the last, would benefit from more aggressive editing. All three seemed to end, only to be followed by an unnecessary and very lengthy second ending that was clumsier and less interesting than what preceded. The third movement was light and bouncy, and reminded me of some Kabalevsky piano pieces I played as a child. But by then, the concert was long, approaching two and a half hours, and it felt like the BCMS was beginning to tire. Or maybe I was. I think the afternoon could well have ended after the Korngold song. But this is not meant to detract in any way from the precise, measured, convincing performances by all of the performers, who managed to play with individual authority as well as group cohesion. A really wonderful and unexpected afternoon.
BOSTON EARLY MUSIC FESTIVAL: Marc-Antoine Charpentier's La Couronne de Fleurs and La Descente d'Orphee
Paul O'Dette and Stephen Stubbs, Musical Directors; Gilbert Blin, Stage Director; Anna Watkins, Costume Designer, Melinda Sullivan, Choreographer; Robert Mealy, Concertmaster; Kathy Fay, Executive Director
November 27, 2011

La Couronne de Fleurs began in a sunny French Baroque mood wtih maidens dropping flowers in front of a small ensemble joined by two airy male dancers. The singer praised her flowers and called forth a troupe of shepherds and ladies. The dancing and music supported each other effortlessly with such gorgeous lines of poetry in the music as "Nightingales listen to the loveliest of our songs and die of pleasure and of envy". A trio of male voices interjected a sweet, sustained interlude about fountains, including some antiphony. Lute, recorder, gamba and choral singing were consistently high level. The small Jordan Hall stage was used to great effect from the beginning of this production.
The La Descente d'Orphee (Tale of Orpheus and Eurydice) continued the motif "May our songs go through the air". What followed was lyricism at its best, sung in a duo by two maidens, preceding the marriage of Orpheus and Eurydice. All the sweetness is rent asunder when Eurydice is bitten by an unseen snake and dies. Beautiful and moving choral singing followed, showing real pathos. Tenor, Aaron Sheehan, sang the part of Orpheus with conviction. (I should note here that Mr. Sheehan seemed to inhabit his Orpheus with more passion as the operas progressed.) The god, Apollo (sung finely by bass-baritone, Olivier Laquierre) advised Orpheus to petition Pluto in Hades to win his Eurydice back.
Following intermission, we are led into Hades, Pluto's domain. What follow on-stage was one of the most fully realized dramatic sections of the production. The legendary tormented Tantulus, Ixion and Titus appeared among the damned. Pluto (Doug Williams) entered, singing with a terrific bass-baritone and fabulous stage presence. Orpheus promised his obedience to fulfill his mission -- "My lyre cannot express my martyrdom". Proserpina sang with full heart and supportively both emotionally and musically of Orpheus. Aaron Sheehan's Orpheus sang with more passion when confronting Pluto. Pluto reminded all with great flourish that "the shades can never return from the empire of the dead". Doug Williams assumed his Pluto with great panache! Choral work was bright and lovely. The drama ramped up when Eurydice's veiled shade moved across the stage. And finally, Pluto plucked back Eurydice from the shades. The tormented dead tried to keep Orpheus in Hades as he had beguiled them but to no avail. Orpheus and Eurydice are free, "flying to the sky with waxen wings".
This was a splendid and fully realized set of chamber operas. The orchestral ensemble, dancers, chorus, and stage transformations were all first rate. Soloists Doug Williams (Pluto), Carrie Hennaman Shaw (Eurydice), Aaron Sheehan (Orpheus), Olivier Laquerre (Apollo) and Mireille Asselin (Proserpina) sang well alone and in combination with each other. I very much hope the production will be recorded. I would certainly like to visit it again.
BOSTON MODERN ORCHESTRA PROJECT: Agócs, McPhee, Colgrass, and Vivier
Gil Rose, conductor
November 20, 2011

The first of four works by Canadian composers, Kati Agócs's "Vessel" (2010) is scored for three vocal soloists, singing (in motet-like counterpoint) three different poems: "i carry your Heart (i carry it in)," "The Garden of Delights," and "His Boat." The instrumentation is spare, and the voices interweave with percussion, violin, cello, harp, bells. The three women sang with diminished quotient of vibrato, which was most appropriate to this kind of work -- overdoing of bel canto techniques would have overwhelmed and distorted the balance and intimacy of the work. Despite its beauty, I felt that the emotional content of the poems just never percolated into the melodic material or spirit of the performance. Even true medieval ballades, with their limited musical vocabulary, can convey quite a bit of warmth and feeling. As beautiful and lucid as this performance was, I didn't feel how the emotion of the poetry was promoting the work. To summarize: beautiful and well-performed, but somehow a bit cold.
Colin McPhee is probably most known for bringing Balinese music into the Western world's musical consciousness, despite his having a relatively small musical output and many of his pieces having become lost. The Symphony No. 2 is one of his later pieces, written while he was eking out a living as a writer New York, following an unhappy departure from Bali in 1939. It was composed in a period of economic and physical distress, before recognition of his importance landed him a professorship at UCLA in 1960. The symphony is in three movements, beginning with building energy over a short ostinato. The Balinese influence is in the pentatonic scale that permeates the work and in the percussion that is always ready to enter the musical line. But unlike later works of minimalists such as Steve Reich, or composers like Evan Ziporyn who directly incorporate Balinese style, these melodies, according to McPhee's own description, "no longer maintain their original Balinese character." Parts of the symphony have a large, movie-score-like narrative feeling. Some the melodic material feels more middle-eastern than Balinese. Much of it feels large and romantic. Under Gil Rose's direction, the orchestra performed flawlessly, as usual, with some extraordinarily beautiful horn solos answering themes announced in the strings. McPhee's music can feel somewhat directionless at times, and perhaps this is another point of similarity with the hypnotic quality that Balinese Gamelans can produce.
Michael Colgrass's piece, "Letter From Mozart," (1976) written as a "response" to an invented letter from Mozart to Colgrass, was the concert's high point. Notably, the piece has two conductors, presumably for the Mozart and non-Mozart parts of the work. Colgrass comes from a jazz background, having spent much of his early career as a Jazz drummer and freelance percussion composer. You can hear his energetic percussion throughout the "non-Mozart" parts of the work. "Letter" opens with what sounds like a never-heard-before Mozart piano concerto, but after a few minutes, the composer shifts gears into an atonal piece, full of percussion, pauses, and playfulness. The orchestra handled the transitions beautifully and seamlessly. "Letter" alternates between the classical motifs, ethereal atonal pauses, energetic dissonant sections, dance-like sections with accordion, and intrusion of piano, and an oompah band. Despite this mashup, it has more horizontality and space than a Charles Ives work: the layers overlap, but sound distinct. Here, the orchestra handled the frequent changes in tone and texture easily and lightly. It is really innovative – light but genuinely engaging, and the contrasting musical modes worked.
Claude Vivier is a writer of "spectral music," a style whereby compositional decisions are determined by the analysis of sound spectra. Vivier's compositions span the time when he was booted out of the Roman Catholic novitiate until his untimely death by stabbing in 1983 the hands of a young Parisian man.
"Orion" is performed flawlessly. It is a really interesting work, restless, moving between small performing forces and the full orchestra. It opens with a haunting trumpet, whose varied melodies are echoed distantly. The orchestra moves immediately to a "Rite of Spring"-like passage, with sharp punctuated rhythms, clanging with bells and percussion. It quickly moves again to a quieter mode, where the trumpet once again holds sway. This kind of alternation continues, violins continuing in ostinato fashion against increasingly agitated themes that seem to be built upon the opening trumpet themes.
It's a restless piece, where you hear phrases that remind you of many late 19th and early 20th-century symphonic works (Bartok, Stravinsky, Wagner). Distant bells and atonal melodies are underpinned by major chords. The pauses bring back the spare themes played by small groups alternating with the full orchestra. Somewhere, you imagine pieces of Terry Riley inserting themselves. But the piece is distinctive and its style is elusive. Near the end, voices enter surprisingly. The ending, a wall of brick-like major chords following more distant-sounding bells clanging, like an enormous gothic cathedral, imposing and frightening, ends the piece, with a fadeout. I think Rose could bring out more dynamic contrast from his orchestra, because the performance felt slightly constrained.
This was a fine concert, promoting the music of composers who are in some way Canadian. I found it intriguing to discover how many of composers have been touched by the music of Bali.
HANDEL AND HAYDN SOCIETY: Pergolesi
Rinaldo Alessandrini, conductor; Liesbeth Devos, soprano; Emily Righter, mezzo-soprano
October 30, 2011

Giovanni Battista Pergolesi's Salve Regina and Stabat Mater were written at the end of his life when he was dying from tuberculosis and they are both among the greatest jewels of the Italian Baroque period. The Handel and Haydn Society performed a mix of Baroque masterworks including the two Pergolesi masterworks along with a well known Bach harpsichord concerto and a shorter piece by Italian composer, Geminiani.
Geminiani's Concerto Grosso in G minor, opus 3, number 3 opened the concert with wonderful crispness, conducted with vigor by Rinaldo Alessandrini. There was a rich ebb and flow to the piece, drawing in the audience immediately as if we were seated in a royal European court. It was intimate, engaging and a great concert beginning.
The young Belgian soprano, Liesbeth Devos, completely commanded the Jordan Hall stage for the performance of Pergolesi's masterpiece, Salve Regina. Beginning solemnly and slowly, Ms. Devos sang with excellent range and genuine emotional depth. Her singing was subtle and dramatic, majestic in the upper range. Her voice was tender and flexible and well modulated. The Handel and Haydn Society orchestral ensemble shifted between animation and languor gracefully, embracing the deeply religious theme of the composition. Fine violin work allowed the rich musical velvets to drape and flow. This was a splendid, profound performance of a great piece of music.
One of Johann Sebastien Bach's short masterpieces, the Harpsichord Concerto in D (BMW 1054), was next performed with flourish. It was a full-hearted and rhythmically highly focused performance with nice percussive emphasis. The harpsichord hummed throughout, lending an underlying flow of sound. The adagio movement was courtly, written around a narrow melodic line without much embellishment, enhanced by the darker sound from the cellos and bass. The final allegro movement brought us back to a "happy" harpsichord that swelled with joyful expansiveness in true Baroque fashion.
Pergolesi's masterwork, Stabat Mater, followed after a program intermission. Soprano, Liesbeth Devos, was joined by acclaimed American mezzo-soprano, Emily Righter. From the beginning, the weaving of the two women singers was really first rate as they clearly partnered each other, a requirement for Pergolesi's masterpiece. The Stabat Mater has operatic intensity with its high level of sustained drama and need for virtuosic singers. This reviewer was happily rewarded by this performance which was the best I have heard since hearing it in Paris in the church where it was originally composed during Pergolesi's lifetime. The orchestral ensemble and singing duo fully embraced the levels of profundity, tragedy and mystery within the music which transported the audience to a very different world than that of the 21st century. There was good balance between virtuosic pacing and the more legato and sustained sections of the composition. For the second time during the concert, Ms. Devos' voice soared with beauty, and was supported nicely by the orchestral ensemble. Ms. Righter's mezzo was very dramatic, elegant and powerful. What a pairing! The performance included the right amount of breathing space between the more active sections of the composition. Conductor Alessandrini almost danced while conducting a masterwork he clearly knows and reveres.
What a treat to attend a concert that featured autumnal, graceful, profound and joyful music.
THE CHAMELEON ARTS ENSEMBLE: Barber, Rouse, Beethoven
Janna Baty, mezzo-soprano; Deborah Boldin, flute; Gloria Chien, piano; Gabriela Diaz, violin; Joanna Kurkowicz, violin; Kelli O'Connor, clarinet; Rafael Popper-Keizer, cello; Anna Reinersman, harp; Scott Woolweaver, viola
October 2, 2011

In this first concert of their 2011/2012 season, the Chameleon Ensemble reared up like that statue of the mounted Peter the Great in Palace Square, St. Petersburg. And like Palace Square itself, the opening piece was a strange combination of contemporary times and the ancient religious past.
It was mezzo-soprano Janna Baty's task to kick the season off with Samuel Barber's lesser-known and highly quirky "Hermit Songs." Originally written for a higher pitched soprano (Leontyne Price), the Hermit Songs assumed an intriguing cast through the medium of Baty's voluptuous voice, bursting with vibrato effects and plunging deep into dark tonalities. She is a dramatic, not a lyric soprano and that is evident from the very first piece "At St. Patrick's Purgatory." With keen melodic variation, she sang of a monk who agonizes about not being able to wail convincingly enough about the sufferings of Christ during his pilgrimage. Another piece, "Church Bell at Night," – simple, understated – posited the pious idea of a monk preferring to be with a chiming bell than a "light and foolish woman." (Could he have meant any woman?). "Promiscuity" is a short two-line song that offers a slight dissonance and a bit of humor about "fair Eden" not sleeping alone. Other songs expressed ideas that listeners unfamiliar with 10th-century Irish Christian ideas might have found bizarre. ("Nothing in this world is true save, o tiny nursling, You.")
Christopher Rouse's Compline, although ostensibly a religious piece (the title refers to the evening prayer undertaken by monks just before retiring), is a lively frenetic work of emotional intensity, more like an erotic poem by the youthful Paul Verlaine than a contemplative prayer by some pious monk. It featured insistent string ostinatos with declarative and urgently insistent woodwinds, soaring to high registers and swooping down like falcons onto pigeons. There were more calming sections as well, but not ones that lasted very long. Placid strings soon morphed into a disquieting sequence containing undertones of sorrow. The ostinatos sounded like they were influenced by minimalism; however, in the capable hands of flutist Debra Boldin and clarinetist Kelli O'Connor , themes were handed off so vigorously between woodwinds and strings that they sometimes conveyed a non-minimalist and desperately tempestuous edge. So is this piece religious? No more religious than the semi-mad Turangalîla-Symphonie by the devoutly mad Catholic composer Olivier Messiaen. The final part sounded crepuscular and vaguely elegiac with the undercurrents dissolving into a false ending that ended up being actually poignant. The ensemble then produced a marvelous coda that faded into darkness.
Joanna Kurkowicz, Rafael Popper-Keizer, and Gloria Chien gave a vigorous reading to Beethoven's famed Archduke Trio from 1811, his middle period. The piece is famous for elevating the role of the violin and cello to be equal to that of the piano (although, to be fair, Mozart had done this to some extent already). The three musicians opened the delicate allegro moderato, slightly slower than commonly performed, but it definitely contrasted well with the windy scherzo to come. The manner in which they conveyed the lovely opening melody felt like walking with Beethoven along one his favorite sylvan pathways. The scherzo was excitable and marvelously executed. Chien's piano work offered the audience bold sforzandos, heady contrasts between left and right hand, and varied repeats. Kurkowicz and Popper-Keizer's pizzicatos were gentle and subtle and they gave the audience a lush string expression that was uncommonly restful. The final string dialogue was eloquent; the allegro bursting in with no break from the andante. The final presto produced a dancelike melody on piano, bumblebee-like runs on the strings, and a dark chocolate truffle of a coda.
BOSTON CHAMBER MUSIC SOCIETY: Tsontakis, Brahms, Fauré
Steven Copes, violin, Maiya Papach, viola, Benjamin Hochman, piano, Ronald Thomas, cello
August 27, 2011

This concert took place the night before Hurricane Irene was scheduled to come through. Nevertheless, the auditorium was quite full. They crowd came out to hear three works performed by the Boston Chamber Music Society: Knickknacks for Violin and Piano by George Tsontakis, Cello Sonata in E minor by Johannes Brahms, and Piano Quartet in C minor by Gabriel Fauré.

I wasn't familiar with Tsontakis, just a little nervous about the piece from the title he'd chosen. I was prepared to hear an eclectic work, invoking a variety of styles from a wide variety of musical genres. And so it was. From the start of first movement, "Shufflling," his arpeggios suggested minimalism; there were echoes of the late Beethoven string quartets; there was a cakewalk-like section; there were harmonies that reminded me of Philip Glass's 5th string quartet. (You should listen to that quartet even if you are certain you dislike Glass.) I heard echoes of Bartok and Prokofiev. But altogether, the movement stood well by itself.

The other movements offered contrasts. "Goodnight Lullaby" gave us a short ostinato figure from the violin in its high register. There were more late Beethoven harmonies. "Fandango Facade" seemed to emanate from a late romantic spirit. Energetic performances of Steven Copes, violin, and Maiya Papach, Viola carried Tsontakis' intentions with assurance. They seemed very collaborative and in sync with each other. At times, they had an almost uncanny ability to sound like an entire quartet, perhaps enhanced by the general liveliness of Pickman Hall. The following movement, "With Hushed Tenderness," started with a wonderful conversation between violin and viola, a leading melody, followed by and answer, then sections where they doubled each other. The movement sometimes felt directionless as it moved along. For the final movement, "Bumpkinesque," he returned to the Philip Glass-like harmonies in a highly rhythmic, dance-like, crisp performance. Ultimately, the piece was interesting, thought-provoking, accessible, certainly worthy of attention. I'd like to hear it again.

The Brahms cello sonata in e minor, is a well-known work. It started well, a rich performance with excellent balance and a well-developed sense of expectation. If you haven't heard a live cello in a small concert hall with favorable acoustics recently, you may have forgotten how many overtones it can convey, nuances frequently lost by CDs and MP3s. But as the movement progressed, sense of balance between cello and piano was lost. And in the second movement, the piano became even more ephemeral and distant. I frequently felt I was listening to the product of a not-quite-able sound engineer, and several times, I had to suppress an urgent desire to jump up and shout, "You've got the balance wrong!" In the end, the piece progressed more like for piano accompanied by cello . Brahms loves to use the lower, darker register of his instruments, and the pianist (Hochman) and the cellist (Thomas), struggled with finding what Brahms was after. The movement carried on, but really never seemed to find what I like to call the paragraph level: the notion that the music is sectional, that each section has integrity, and that the sections comprise a single whole. There were some nice individual phrases, but the feeling of a directed movement and inevitability just wasn't there. The third movement opened more strongly. The piano and violin struck a better balance. But too much of the thrust of the performance managed to make the movement feel like a great, long cadence. The finale was strong and well executed. On the whole, the sonata needed more thought, rehearing, rehearsing.

Piano Quartet in C minor by Gabriel Fauré embodied the strengths and weakness of the previous two pieces. There were many beautiful bits: The balance was better at the start. In the scherzo, there was a really transcendant section where the piano is plays against a pizzicato. But the adagio lacked dynamic range, the piano disappeared again, and there were some attack issues.
And that continued into the Allegro molto. The Fauré piece is pretty without having very much to say, but we've all been to concerts where a quartet will have found some hidden inner line, brought it out, re-energized a piece. Not here.

The audience was happily enthusiastic for the home team, applauded long and hard, brought the members of the quartet out for many bows. But I felt only partially rewarded, and wished the quartet had spent more time asking themselves, aside from the Tsontakis piece, what are these composers trying to say?
AMERICAN REPERTORY THEATRE: Porgy and Bess by George Gershwin, Ira Gershwin, DuBose Heyward (original composers and novelist).
Directed and adapted by Diane Paulus, Suzan-Lori Parks and Diedre Murray. Ronald K. Brown (choreographer) and Riccardo Hernandez (set designer). Audra McDonald (Bess), Norm Lewis (Porgy), David Alan Grier (Sporting Life), Phillip Boykin (Crown)
August 27, 2011

The American Repertory Theatre really delivers a powerhouse with their current production of the updated Porgy and Bess. Superb stage direction and fine scene definition accompany haunting vocal performances by multiple Tony Award winner, Audra McDonald as Bess and Norm Lewis as Porgy. There's a nice mix of respect for the original text and opera along with newly developed characterization, very welcome to the twenty first century audience. It was clear to me that the ART really did their homework before staging this new interpretation of an American classic.
This Porgy and Bess is thoroughly engaging, fast-paced and poignant. Many of the Gershwin chestnuts like "Summertime", "Ain't Necessarily So", "Bess You Is My Woman" and "I'm On My Way" were treated with loving respect and freshness. The song, "Summertime", appears like a refrain at two or three points in this two act re-interpretation. The magnificent operatic "aria" (and my single favorite song in "Porgy and Bess") "My Man Is Gone Now", was sung extraordinarily well by Serena (Bryonha Marie Parham) and the funeral scene's chorus and details were rich, wrenching and memorable.
As a childhood lover of the original Porgy and Bess with a musical father from Brooklyn who hummed Broadway tunes frequently, I was happy to see this production's strong emphasis on the poverty of the people inhabiting Catfish Row, South Carolina, lending timelessness to the script. The dice shooters, inability to spend a lot of money for a proper funeral and burial, Bess' prostitution and drug problems are all part of this kind of unrelenting poverty which is not much improved in 2011 in large sections of urban and small town America. The people's struggle with poverty and with nature (including a hurricane within the play) universalizes this Porgy and Bess and shows how the struggle to maintain dignity and cohesiveness in the face of adversity, violence and loss. We are never left to feel this is a fantastic, unreal place because the staging includes domestic and work imagery (washing, fishing, carting goods), rooting the scene in reality.
The individual performances by Audra McDonald (Bess), Norm Lewis (Porgy), David Alan Grier (Sporting Life) and Phillip Boykin (Crown) are fantastic. These terrific singer/actors have lots of chemistry with each other, there is an electricity that radiates through many of their scenes and dialogues. Norm Lewis as Porgy completely inhabits his role as the crippled, good-hearted, poor African American man with a deep heart and clear sense of right and wrong. He is a majestic Porgy, one I will not forget for a long time. His performance alone compels me to want to come this production for a second time during its current run.
I highly commend Diane Paulus, Suzan-Lori Parks and Diedre Murray on their wonderful re-working of the original material.
BOSTON MODERN ORCHESTRA PROJECT: Ziporyn, Foulds, Child, Shende
Gil Rose, conductor. Sandeep Das, tabla.
May 27, 2011

I had been looking forward to this concert ever since I saw an earlier misprint last September claiming Sangita would be performed in November. The BMOP site finally posted the right date. Ever since I heard the Modern Jazz Quartet's "Music From the Third Stream" album, I've always held my breath, anticipating the performance of the next composition embracing cultural or aesthetic fusion. Would I be treated to a work of great beauty, depth and complexity, or assaulted by a failed attempt that crashed on the shoals, maybe near something deep, but drowning nonetheless?
I've had mixed responses to BMOP in the past. Their concert in 2007 that included Stephen Mackey's "Dreamhouse" and Evan Ziporyn's "Hard Drive" was a terrific, energetic, and inventive, new music merged with hard rocking electronics. But I also saw them at Harvard performing with Cristina Zavalloni, who travels with the Dutch Composer Louis Andriessen. She sang a work I really love, "Passegiata in tram in America e ritorno." BMOP overwhelmed her, and the pure beauty of her voice was lost to the brass. (An aside: "Passegiata" is itself a work that has elements of fusion, combining Andriessen's normal material with smatterings of renaissance melodies.) I sometimes wish that BMOP would find wider dynamic range. Maybe that's why I go to see the Jack Quartet before I go to see the BSO. I think of Indian music as personal, improvised, intimate, and internally responsive. Also reflective, lugubrious, and ecstatic. All this can be conveyed on only one, two, or three instruments. That's another part of the equation.
There was a warning in the program notes: ". . . the listener should bear in mind that this music isn't intended to sound like traditional Indian music." I'd prepared myself by listening to Ravi Shanker classical ragas, George Harrison's "Within You and Without You," and Christine Southworth's "Heavy Metal." (Okay, not exactly Indian, but I was getting warmed up.) That wasn't really the right preparation. With the exception of the Ziporyn piece, sonically and structurally the works were, in many ways, a very Western group of pieces, more influenced by Indian stories, myths, and philosophy than by what we normally think of as Indian music.
The first piece, "Naimittika Pralaya," by Vineet Shende, is a tone poem, embracing the big Indian ideas: existence and non-existence, destruction and rebirth. There is an interestingly prepared piano, as well as some retuning in some of the strings, which, when combined with use of equal-tempered and naturally-tempered scales, produces a compelling microtonal environment. From the opening we hear wonderful melodies rising to the surface out of a kind of complex stew of textured, complex dissonances. Shende moves then to more melodic portions and almost Bartok-like melodies, passing through big, blocky chord shifts and long passages of strings doubled at octaves, wonderful sliding, and rising melodies. He uses techniques of playing near the bridge, with many leisurely sostenuto sections over a pizzicato walking bass. Late in the piece, we do hear sections that sound sitar-like, or even Electric Light Orchestra-like. There are many effective passages that evoke the sound of crying. If only the world of new music were orderly like a Mozart symphony! Shende describes much of the melodic material as coming from specific ragas. It would be good to hear this again, and I think that's a sign of how compelling the music was. BMOP was excellent here, well-balanced, and delivered this complex piece quite elegantly.
Next up was Evan Ziporyn's piece, "Mumbai." It seems like he's just about everywhere this spring. He was involved in MIT's 150-birthday concert (which included an embarrassing piece blending the story-telling of Noam Chomsky with the playing of the Kronos Quartet.) The title is meant to invoke of the horrible terrorist incident of 2008. "Mumbai" features the extraordinary tabla playing of Sandeep Das, a member of the Silk Road Ensemble. Perhaps evoking Ziporyn's love of Gamelan, this piece opens with a group of Tibetan singing bowls, which sit on little cushions, and are played by moving a stick to get them to resonate. (Head over to YouTube and search for "Weaving tones on Tibetan Singing Bowls" to see the many techniques that can be used with them.) The bowls produce a huge number of overtones. But they are … um … Tibetan. No matter. I love Gamelan. The hushed richness of the bells yields to percussion. The bells are struck. The strings form a kind of drone, and then the tabla enters after a few minutes. Ziporyn has the tabla alternating between being a solo instrument and accompanying percussion in a fluid manner. As always, the spirit of minimalism influences Ziporyn's work and there is a long section built around what is first a rapid 5-note figure, and then a pair of 5-note, 7-note figures, accompanied by the tabla. Sandeep tried to make eye contact with the other members of the orchestra, but they were totally immersed in their scores. The section then transitions to a long and aimless-feeling part that feels like it was driving to a cadence. Near the end comes a harmonious slow section, carried by slow-moving strings, with melodies that seem to emerge out of nowhere. Tabla accompanies here, but rather than seeming Indian, it feels like a section from the late Romantic era. Finally, a recapitulation with slowly-building cross rhythms, accelerates to the end. Ziporyn really knows how to use a star like Sandeep, perhaps because of his rock-and-roll or jazz influences. Not always out front, but with opportunities to be. I like very much that I forgot about the orchestra and conductor during this piece, almost to the point that it seemed like a self-directed work. Evan sure knows his way around the percussion world!
I am not fond of modern "art songs," with their excess of vibrato or love of dissonant music slavishly tied to the text of Wallace Steven's poems. I only toss this in to say there are a number of Peter Child's art songs that I haven't enjoyed much. But there were many sections of "Shanti" that seem uniquely interesting, perhaps because of the way he chose to build the underlying scales, and because of the way he didn't shy away from chords generated even when they were sitting at the edge of cheesiness. The scales were, according to Childs, adapted from the Melakarta, a 17th century Indian scale-generating system. He used more traditional Western techniques (inversion, retrogression) to build the piece.
Each of the eight movements claims to invoke a different aesthetic emotion. The first movement was exciting, pitting a string melody that was descending with a big, bright brass polytonally-related arpeggio. The effect was powerful and simultaneously nightmarish. The second movement was a cousin of the second movement of Mozart's 40th, with long suspended strings in a perpetually descending line. Other sections sounded almost Russian, Prokofiev's Peter and the Wolf perhaps, or his Lieutenant Kije Suite with big tonal cadences. Another movement was heraldic and military-sounding. Still another sounded composed for Hollywood, with Disney-cartoon-like chords. This is a long work and moved towards a quiet peaceful conclusion, with chords Grieg would have loved (except for the dissonant transitions), harp-like arpeggios and finally a delicate finish with xylophones and sustained horns. I lost track of what movement I was listening to. BMOP really nailed this piece. When the brass has an opportunity to show off, they really can.
By the time the rarely-performed piece by John Foulds was introduced, everyone, including the orchestra, was getting tired. The connection to India felt tenuous. (Foulds died in Calcutta of Cholera, which give him cred.) There are three movements, Action, Bliss, and Will. I found the first movement to be big, bold, and boring. The second movement features a "wordless" women's chorus. That, unfortunately, reminded me of one of the settings on my multi-talented Yamaha keyboard. The last movement was quite a kick, though: kind of noirish, kind of martial, with drums and crashes. There was even a little sax interlude. You could almost imagine a serious-sounding narrator for the piece, as part of a movie. But as I said, it was getting late. Maybe it was a kind of New Music 1812 Overture. India?
So just how Indian was this concert? Not counting Sandeep Das, it was far less Indian than Petel's Market in Waltham. But maybe that didn't matter. Ziporyn and his colleagues brings Gamelan into some very engaging works, without the listener feeling that it's grafted onto the piece. I don't think this happened as much with the Indian themes in this music. Instead, Gil Rose and BMOP delivered an interesting and unusual set of pieces, not easily categorized into "European Modernism" or "post-minimalism," or "third stream." When the concert ended, I felt my mind shouting out, "Wait, I'm just starting to figure out what's going on here. When can I get the CD?"
The Chameleon Ensemble: Beethoven, Bermel, Bloch, and Barber
Deborah Boldin, flute; Vivian Chang-Freiheit, piano; Nancy Dimock, oboe; Whitacre Hill, French horn; Joanna Kurkowicz, violin; William Manley, percussion; Kelli O'Connor, clarinet; Margaret Phillips, bassoon; Rafael Popper-Keizer, cello; Sergey Schepkin, piano; Katherine Winterstein, violin; Scott Woolweaver, viola.
May 22, 2011

The Chameleon Ensemble's idea to start the concert with a performance of Samuel Barber's Summer Music was a canny one. First, it is a shiny exuberant piece that highlights each instrument in the woodwind quintet: the flute, oboe, bassoon, clarinet, and the horn. It got the audience in a highly receptive mood from the start. Plus Barber's one-movement piece harkens to the coming summer with languid sequences alternating with lively motoric parts, much like a summer Sunday's day on the Charles River. And if some of the enthusiasm champed at the close confines of the Goethe Institute (most notably the horn), the audience received the piece warmly.
Derek Bermel's oddly titled Tied Shifts came as a pleasant surprise. The opening violin ostinato was puzzling, but quickly gave way to a spirited reading of a percussive and highly inventive piece. In both the presto and the allegro molto movements, a dizzying array of ethnic strains engaged the listeners. These quasi-Bulgarian themes are as entrancing as a walk through an avenue of Moroccan spice stalls. There is no telling what new musical aroma is going to waft past you next. Hearing such exciting music for the first time is very much like making love to a new person in your life. It's not only charming but thrilling, and the appreciation deepens with age; however, the shock of the new that stays with you is never to be repeated.
Beethoven's Violin Sonata No. 4 is like an old friend who shows up unexpectedly at your doorstep. You're surprised to see her, but soon the old stories and reminiscences ensue with warmth and nostalgia. There is no pussyfooting around, the piece just walks right in and asserts itself. There is no sentimentalizing or hollow laughter here. Brilliantly handled by Joanna Kurkowicz on violin and Sergey Schepkin on piano, this sonata by Beethoven felt quirky, dark, and sometimes difficult – most notably in the first and third movements. The andante had its humorous moments, particularly in the whimsical two-tone dialogue so well-articulated by the players. There was a high tempo variance in the final movement, which stood in sharp relief like a high contrast photograph. The lead melody was played tightly and with great conviction, and the coda served up a delicious dish of demisemiquavers.
The ensemble then played Ernst Bloch's justly famous Piano Quintet No. 1. It is a piece with one-half its personality in the 19th century and the other half in the experimental 1920s, when it was written. Many people read too deeply into this piece, attributing to Bloch some sort of prescient knowledge of the pain of World War II. As performed by an ensemble like the Chameleons, it was simultaneously an entertaining and profound exploration of Bloch's sense of modernism. Like Bartok, he felt the need to respect the past and imbued the work with strains of chromatic lyricism, such as in the second movement. But in III, there is an intense almost dancelike opening melody, which dies down to reveal discrete somatic cells of atonality. Here we have a true 1920s feel of chamber music excitement, as the piece took off like a highly maneuverable triplane looping around in an air show, descending finally into a lyrical, almost lazy mood.
What a great way to end the concert. And the season.
HANDEL AND HAYDN SOCIETY: Requiem by Wolfgang Mozart, conducted by Harry Christophers.
May 1, 2011

Wolfgang Amadeus Mozart wrote his final glorious Requiem, anticipating his own death in 1791. Myths and mysteries still swirl around this masterpiece, but I think it's more important to discuss the performance. For more information about the myths and mysteries, see this Wikipedia entry.
The Handel and Haydn Society presented Mozart's Requiem as the centerpiece of one of their remaining concerts in its one hundred and ninety sixth season. Attendance was very high for this widely anticipated concert, which included two lesser compositions by Mozart and an early accompanying composition by George Frideric Handel. The motet, "Ave verum corpus", opened the concert with tonal shifts from major to minor, hinting at the Requiem's similar solemnity. Insistent swelling rise of the chorus was held very nicely by the sopranos, in particular. The motet contributed a lovely sustained and short musical theme and movement.
Next on the program was Mozart's aria, "Per questa bella mano", sung by the fabulous American bass-baritone, Eric Owens, in duet with Handel and Haydn's own Rob Nairn, playing double bass obbligato. This was a love song linking heaven and earth. Double bass enunciated its low, throbbing range, echoed by the small orchestral ensemble. Eric Owens is a major singer and force of nature with previous operatic roles at the Metropolitan Opera in New York. His voice is deeply emotional with resonance and unusual flexibility. His middle and upper range soared, elegantly supported by Mr. Nairn's double bass. Fine control was shown in all of this performance.
Handel's early composition, "Dixit Dominus", included eight soloists, heavily weighted for sopranos and mezzo-soprano voices. A dizzying vault into the soaring orchestra included fine movement between choral sections. An early trumpet rose in the turbulence. Occasional short solo parts were introjected with great volume, passion and modulation. Soprano soloist, Elizabeth Watts, sang with beautiful upper register tones that were vibrant, airy and strong, adding a bird-like tremulo. The chorus generally sang with good dynamic shift between pianissimo and crescendo, sounding sometimes like an ocean of angels. Eric Owens once again triumphed with his strong bass-baritone command. Throughout this fine early work, a musical tapestry wove around bright points of color, pizzicato ornamentation lending gold and red threads. The duo of sopranos written around the line of text, "He shall drink of the brook in the way", was poignant, respectful, a lovely articulation. The two sang in fine complement to each other. The "Gloria patri" movement at the end showed a high command of very complex rhythmic variations, almost a call and response, traded richly by the choral sections.
This performance was a high point of the concert for me. I felt as if I was a passenger on the ship of this glorious music, tossed on the sea of turbulence, eternal for all time.
Mozart's masterwork, the Requiem, began with "The trumpet will send its wondrous sound/throughout earth's sepulchres" slowly, solemnly and fatalistically bringing the orchestra to bloom. Suddenly, the music was struck by a bolt of dark lightning and foreboding. Refined choral work was joined by soloist, Elizabeth Watts; cataclysms within the chorus moved the whole to a full sound. The Kyrie eleison movement built in a point and counterpoint, fugal, shocked crescendo which was finely detailed and disciplined. What followed was an almost operatic build-up. Once again, Eric Owens brought his striking low range voice into contrast with tenor, Andrew Kelly. Similarly, the soprano and mezzo soloists lent poignancy and nobility to the musical line, "What shall a wretch like me say?" There followed a fine quartet of soloists who blended with balance, suggested the emotions of guilt and compassion, illuminating the composer's sad pain and acceptance of his own mortality. Submission mixed with fear of the fires at world's end and portents moved forth through funereal solemnity. One of the finest sections of the Requiem followed -- "Lacrimosa" -- and it was sung with high tragedy and drama, a hinged door between the abyss and renunciation. The offertorium suggested liberation from the pit, sung with zeal. A waterfall of cresting emotion, sweet soprano, offering of sacrifice and praise to God followed. Ascent of the chorus toward the light as promised to Abraham and his descendants arose with rhythmic balance, glory of tone that lit up the whole hall. At the end, we were rewarded with a garden of vocal flowers of the highest order, soloists all drawing from deep within their hearts and spirits for this concert which was consistently excellent. Watchwords for the afternoon at every turn were passion, refinement, other worldliness, dignity and the acceptance of God's mercy in a too short mortal life.
The Chameleon Ensemble: Schubert, Kurtag, Ligeti, Bartok, and Schumann
Deborah Boldin, flute; Vivian Chang-Freiheit, piano; Anthony D'Amico, double bass; Nancy Dimock, oboe; Gary Gorczyca, clarinet; Whitacre Hill, French horn; Elizabeth Keusch, soprano; Joel Pitchon, violin; Margaret Phillips, bassoon; Rafael Popper-Keizer, cello; Nicholas Tolle, cimbalom; Scott Woolweaver, viola
March 27, 2011

The poetic title of this Chameleon Ensemble's concert was "upon the wind your music floats." The music did appear to float in many cases and not just on the land: it swam through the tumultuous water and flapped its wings across pointy mountain tops. The first piece by Schubert, his longest lied "The Shepherd on the Rock" boasted a marvelous opening on clarinet, gently played by Gary Gorczyca with well-controlled dynamics. Then there were those deftly executed dialogues between soprano Elizabeth Keusch and Mr. Gorczyca's on clarinet. Ms. Keusch also negotiated the sudden pitch leaps and pronounced vibrato quite well. Problems arose, however, when she sang some forte sequences: she simply sang them too loud, particularly for the confined space of the Goethe Institute. Despite this, the piece was generally pleasant and featured an astounding virtuoso ending on clarinet.
Bela Bartok's Rhapsody No. 1, normally played on the violin and piano, was performed this evening in its violin and cello version. Vivian Chang-Freiheit on piano and Rafael Popper-Keiser on cello nobly attempted to scale the heights of this craggy work. In particular, the two musicians interpreted the quirky first theme more percussively than I've heard before, with somewhat less total color variance. However, the melodic second theme (parts of which remind me of Aaron Copland's famous Shaker theme from Appalachian Spring) was smooth and well stated.
The centerpiece of the evening was Gyorgy Kurtag's Scenes from a Novel. The work was so well played, with its occasional arch humor well conveyed and its poignancy far beyond reproach, that I instantly wanted to go out and buy a copy. For example the first piece was a forlornly accompanied on Joel Pitchon's angular violin. The second featured Anthony D'Amico's double bass conspiring with the violin and Nicholas Tolle's slightly wacky cimbalom, which is a percussive xylophone-like instrument. Together they matched wits with sharply singing soprano Elizabeth Keusch. This time her voice did not overreach and even seemed eerily appropriate for this deep and affecting work. All 15 small "scenes" are actually poems by Rimma Dalos, who never specified what the novel was nor how it ended.
Composer Gyorgy Ligeti composed Six Bagatelles early in his career but the work shows his impish side. For some reason he begins it with a piccolo (skillfully played by Deborah Bolden), and then that instrument never appears again. Deborah goes on to play the flute instead in this wind quintet. The work is filled with striking devices like comic accelerando, oddly assembled notes, breathtaking octave leaps and a general raucous carnival mood. There is no thematic progression, particularly in the Presto where a sprightly ostinato gently mocks the whole idea of development. Despite the lack of a piccolo, Deborah spun out a series of high notes on the flute in the spirited finale.
The final piece, the 19th century Piano Quartet in E flat major by Robert Schumann, has an exuberant opening featuring Chang-Freiheit's impressive piano virtuosity and vast flowing themes. The ensemble played the famous scalar theme at the opening of the vivace with fury and shades of romantic heroism. This one theme runs through the entire movement but it is so distinctive, so hurried, that makes a lasting impression. I have always found the andante a bit sentimental, no matter who plays it, so I am not qualified to comment on this rendition. The triumphant major key of the ending almost obscures the sad knowledge of the ending of Schumann's life. From Beethoven he even learned how to construct a whimsical fake-out ending before the traditional coda. This was truly another memorable evening with the Chameleon Ensemble.
AMERICAN REPERTORY THEATER: Death and the Powers: the Robots' Opera by Tod Machover. Libretto by Robert Pinsky.
March 20, 2011

Tod Machover of the MIT Media Lab's latest opera is a bold project with large philosophical themes − animal versus spiritual, fantasy versus business development, matter versus time. Perhaps the weightiness of the themes creates a top heavy quality to the short, ninety minute opera and this is where its difficulty lies.
The character Simon Powers is an extraordinarily rich, international entrepreneur whose body is failing. He has decided to give his body to the "System", a room-sized computer represented by moving walls covered with light panels. Through this means, he will continue to exist as intellectual energy sans body. He does not want to lose the power "to sign checks" or to make decisions. His wife and daughter are greatly upset by his choice, though he follows through with it.
The technical and stage production are high level. Six robots are choreographed to respond to human commands. Moving panels of light represent the "System" into which Simon Powell's body enters. A huge and intricate chandelier doubles as a musical instrument and erotic device. Simon Powers' voice and images from his past life flicker via videos on the walls and it is a consistently strong device. Lead singer, James Maddalena, famous for his prior role in John Adams' Nixon in China, sings with majesty and modulation. His stage presence is commanding and riveting. Similarly, Powers' daughter, Miranda (Sara Heaton), really draws emotion into her performance and has a voice with amazing range and timbre. The other singers are all good, as well.
Poet Robert Pinsky's libretto is well written, sometimes jazzy, topical and humorous. It partners well with the score and helps move the opera forward. As a libretto, it was pretty good poetry.
What does not work so well is the story line which is buried beneath too much abstraction to be convincing. Simon Powers' real world position is never articulated though we are led to believe his departure from the world "of meat" into the "System" may lead to world chaos. Clearly, Simon Powers needs to be "fleshed out" to carry this kind of power in an opera. Without this, all the pyrotechnics and wonderful singing represent a beautiful surface, only. One feels like the ghost of the Wizard of Oz is pulling the levers and manipulating the robots.
Despite this criticism, I enjoyed the ninety minute opera for its fine music, acting and use of a small stage. If developed, this could turn into a powerhouse, and I hope that this happens.
The Radius Ensemble: Hovhaness, Tower, Higdon, and Dvořák
Jennifer Montbach, oboe; Eran Egozy, clarinet, Jae Young Cosmos Lee, violin; Miriam Boklosky, cello; Sarah Bob, piano
March 5, 2011

Like the Chameleon Ensemble, the Radius Ensemble is committed to bringing both new and twentieth century music to its audience, while slipping in the occasional romantic or classical piece. Last weekend's performance succeeded in presenting mostly unknown works to the Cambridge audience. The Ensemble also played them well.
The Divertimento (1949) by Alan Hovhaness is a bit of a blend of modern and old. It opens like a renaissance piece, full of lovely four-square melody and bulging lyricism. Later movements involve a heady sampling of canonic sections and sparkling imitation. But just when you've settled into 1582, Hovhaness throws in a sudden dancelike melody of Armenian extraction, played most excellently by Eran Ogozy (clarinet) and Elah Grandel (bassoon) and Jennifer Montbach (oboe). Just as quickly, it ends. It backtracks to the past, pleasant and accommodating as an old sofa. The Fugue (Finale) is an impressive technical achievement, well performed and sporting a charming use of dynamics.
Joan Tower may be a neo-romantic composer, but her Amazon does not have the easy accessibility and smooth virtuosity of her later concertos. It begins wistfully, then plunges into a dissonance that flirts only once in a while with trim resolution. It constantly searches for a center, and almost finds it with the entrance of the piano. Sarah Bob then angrily strikes the instrument producing drama and shrill yelps, sometimes plucking its strings from within. This is a cranky quirky piece. Aided by cellist Miriam Bolkosky (alas, without her fulsome hairdo) and violinist Jae Young Cosmos Lee, Amazon quickly becomes frenetic and internally combative, like a committee of dadaists debating their next shocking event. The woodwinds are motoric, the piano propulsive. I'm looking forward to a recap via the group's generous podcast of the concert in a few weeks.
Like her recent Concerto for Orchestra, Jennifer Higdon's rapid❖fire is full of energy and inventive force. Played on a single flute by Sarah Brady, it quickly turns into a musical catalog of all a flute can do, every sound it can make, from sensuous trill to furtive glissando. Its spitting tones and fugitive ostinatos offer a piece that's continually in conflict with itself. Brady should be lauded for her amazing breath control throughout this challenging material. The mood may be angry and the music chock-full of coarsely shaded dynamics, but rapid❖fire certainly gets your attention.
What can one say about Antonín Dvořák's String Quintet No. 2? Almost immediately, it starts with its jaunty rhythms. Primarily a sunny piece, it's a nice alternate pairing with rapid❖fire. Who can shy away from the gentle pizzicato of the bass in II, almost like a heartbeat? Who can close their ears to the famous scherzo in III, with its seductive sforzandos? And how about the ascending effusive melody in V, or the folk dance melody, or that long teasing coda? Dvorak loved his repeats and may be one of the last composers to use them so plenteously. To their credit, the Radius Ensemble reinstated the Intermezzo, long missing from most recordings and performances.
BOSTON EARLY MUSIC FESTIVAL: Piano music of Mozart
Kristian Bezuidenhout, fortepiano
February 25, 2011

South African fortepianist, Kristian Bezuidenhout is known as the "prince of the fortepiano" (The Times), Mr. Bezuidenhout gained international recognition at age 21 after winning major prizes in the Bruges Fortepiano Competition. (The fortepiano for this concert was a spectacularly beautiful 1998 instrument, patterned after those by Anton Walter, circa 1785-1795.)
From the first few runs and chords of the Sonata in F major, K332, the audience was transported immediately to Mozart's eighteenth century world of the minuet, hunt, and small opera stage. Mr. Bezuidenhout's playing summoned bell-like tones in the allegro movement, shifting to a steady, walking style in the adagio with particular clarity in the treble range. The allegro movement began with versatility and conjured a world of bird-song. Precision, passion and rigor continued throughout.
The Variations in F major followed on the program. The set of eight variations is Mozart's last composition for solo piano and they contain a range of dance styles with varying emotions, including a significant shift to the minor key. Mr. Bezuidenhout managed the mood and dance shifts here with elegance.
The Fantasie in C minor K 396 showcased both the improvised fantasia and full expressive capabilities of the fortepiano. The piece began with tentativeness, a lot of sorrow, chromatic melody and silence. The treble range playing was gorgeous as if music could be carved out of stone, filigree added. At one point, the light/dark contrast and introspection reminded me of Beethoven's later work, the "Moonlight Sonata."
The concert concluded with the Sonata in B flat major. The allegro's familiar cheerful melody included fine pacing. The melody like a child's song expanded and developed with a full heart. The andante was profound and emotional, showing a combination of acceptance and offering a broad canvas for a piano sonata. The allegretto grazioso followed with jubilant dancing that included fluidity, versatility, and a round sense of completion.
The concert was a triumph. Bezuidenhout included an encore of Mozart's "Andante cantabile" from the Sonata in C major, K. 330. It managed to swirl beauty and regret together, introducing dark threads of lament, quiet acknowledgment and reflection. What a full banquet of music for a winter's night.
The Boston Symphony: Stravinsky and Bartók
Michelle DeYoung, Albert Dohmen, Russell Thomas, et al. Conducted by James Levine
January 7, 2011

It was an ambitious undertaking for Boston Symphony's programmers, to present two of the 20th century's greatest one-act operas back to back: Stravinsky's Oedipus Rex and Bartók's Bluebeard's Castle. It's not a common pairing, like Leoncavallo's Pagliacci. and Mascagni's Cavalleria Rusticana. They have little in common, these twentieth century operas. Stravinsky's is filled with wildly varied vocal textures: a complete male chorus, a mezzo-soprano, bass, tenor, and bass- baritone. Bartók boasts only the bass-baritone and the mezzo-soprano. Stravinsky dictated that that players perform like statues, which often works in a concert opera performance. Except the Boston Symphony performers couldn't resist acting, particularly Michelle DeYoung as Jocasta, Oedipus' wife/mother. In her famous aria "Nonne erubeskite, reges, clamare," she urges the kings to stop quarrelling at a time of plague, and peers in the distance at imaginary kings, using emotive gesticulations and expressive facial features. This opera-oratorio marks the beginning of Stravinsky's neo-classical phase, that cluster of extreme measures he took to re institute arpeggiated triads, diminished 7th chords, and scads of formal recitatives. As performed by the Boston Symphony, the piece would have been enough for an entire evening by itself (provided patrons didn't feel cheated by its length). At a little more than an hour, it certainly didn't drag. Quite the contrary, the orchestra and chorus keep the pace moving a so briskly that it was hard to absorb the impacts of the various calamities as they occurred. As Oedipus, Russell Thomas came off as prideful and confused at the same time, awed by his power and frightened by it at the same time. Oedipus Rex is a double chocolate ice cream of an opera, filled with luscious music and bittersweet crunchy dynamics.
On the other hand, Bartók's Bluebeard's Castle is a smaller desert to consume, but perhaps a more nutritious one. As Judith opening the seven dreadful doors, DeYoung recoils in horror as few others have in a concert opera performance. (Usually it takes stage roses dripping with red food dye to get other mezzos worked up to such fevered pitches.) Her varying rhythms and bursting triads so vividly compete with Albert Dohmen's stern, four-square pentatonics that the two seem fatefully unmatched from the beginning. The opera is about nothing less than the plight of women welded to men of power, a theme far more powerful than Stravinsky's classical portrayal of regal guilt. The music is dissonant at key points of revelation, then steadily foreboding (and downright creepy) at others. Bartók failed to win a prize for it in 1911 and had to wait six years for it to be produced. Only when the Budapest Opera realized that the Wooden Prince was a hit did it agree to pair the two works. The audience loved it.
And therein lies the key to an ideal pairing. Look to the past. Simply reproduce that 1917 evening's bill. A Bartók-only performance his The Wooden Prince ballet and Bluebeard's Castle. Consign Stravinksy's opera-oratorio to the archives, to be trotted out at the anniversaries of his birth or death or other such celebrations. (He never liked opera anyway.) Produce a twentieth century opera that still throbs with life, death, and blood after a century.
BOSTON EARLY MUSIC FESTIVAL: Dido and Aeneas by Henry Purcell.
Yulia Van Doren, Teresa Wakim, Douglas Williams, Laura Pudwell, and José Lemos. Musical direction by Paul O'Dette and Stephen Stubbs.
November 28, 2010

This production of Dido and Aeneas was considerably longer than Purcell's original, yet it was uniformly successful. Framed by a lovely tapestry, it began with an elegant bow from a dancer toward the musicians, followed by a scene flooded with a set of gorgeous period costumes. A young man with a lyre was welcomed by the entourage, and the theme, "Music be the food of love", was stated. There was a wonderful dance involving two principal Baroque dancers who were as light as air and doll-like. Fine instrumental work followed which included Vivaldi-like passion, followed by the entrance of a distraught queen. The queen's sister, Belinda, and the company tried to draw Dido from her melancholy without much success. Laura Pudwell's singing as Dido had some lovely lower register work though there was some inflexibility at times. Prince Aeneas nonetheless pledged his love soon through some really gorgeous singing by Douglas Williams and Dido was placated when presented with a beautiful gift necklace. Ensemble dancing and singing were consistently fine. The second act presented the Sorceress with consort witches and a host of night demons dressed like animated autumn leaves. In this production, the Sorceress was a giant, black hoop-skirted drag queen who really ate up the scenery! He sang well, the consort witches were a wonderful noisy duo and the staging was effectively autumnal, charged and sometimes humorous. Though I felt this act was engaging, I was a little unsure about the humor since its purpose was to show how evil spirits plotted to ruin the bond between Dido and Aeneas and to turn things topsy turvy politically.
Act III began with young people engaged in a hunt in the woods, including some lovely lute and guitar work, the prevention of Aeneas' death (once he magically became a stag), and additional lovely singing by Douglas Williams as Aeneas. In the next scene, Aeneas let Dido know he must part company with her as deemed by the gods, Jupiter and Mercury.
At this point, Ms. Pudwell's singing was gorgeous, deeply emotional, tragic. There was a high pitch to the dramatic tension that built upon excellent singing, acting and instrumental work, leading to Dido's death following her lament, "Remember me." The opera concluded with the falsetto refrain, "How blessed is the archer".
I heartily commend musical directors Paul O'Dette and Stephen Stubbs for their reinterpretation of the surviving fragments of Purcell's score. According to Stubbs, the opera survives only as a "noble torso, like the Venus de Milo." O'Dette and Stubbs needed to fill in the opera with late 17th century courtly odes and dances to complete the opera for a contemporary audience. Though occasionally one dance or scene might have benefitted from a little editing, the opera did sustain its high drama and joie de vivre. The chamber ensemble played with dignity, framing the vocal soloists and vocal ensemble at every turn.
Similarly, the stage direction, costume direction and choreography were top notch. Though this modified version of the original was now double Purcell's original in length, the stage direction struck a nice balance between ensemble work, dances, and soloists. With a lot of activity on stage, there was never a sense of claustrophobia. In particular, the dancing of Caroline Copeland and Carlos Fittante was truly magical.
The Tokyo String Quartet: Mozart, Schubert, Barber
Presented by The Celebrity Series.
November 19, 2010

The justly famous Tokyo String Quartet performed a pleasant concert this weekend, consisting of two warhorses, and one near-warhorse. I don't mean to use the term disparagingly, for these pieces make excellent listening and one even has intriguing complexities. However, they are indicative of a trend I'm seeing these days: choice of program, as well as performance. More on that later.
First, the performances. Mozart's String Quartet No. 21 was competently played. The Stradivarius instruments of all four players had fine tone and the repeated sections were varied sufficiently to keep the piece interesting. The short and sweet Adagio was a musical truffle filled with cream and the minuet was sprightly as a dancing muledeer. The Allegretto had passages of tasty intricacy and there were few if any mistakes made. It amused me, for one, but without moving me.
It was also nice hearing Schubert's famous Cello Quintet, and fun watching closely to see how the parts differ for each cello. Lynn Harrell did a splendid job with his 1720 Montagnana, particularly in the pizzacato dialog with the first violin in II. The Scherzo was appropriately rollicking, reminding me of a whirling folk dance, only to dip back into the lyrical first theme from I. It was the centerpiece of the evening and justly so.
Yet I was so mystified by Samuel Barber's String Quartet. Not its inclusion, which is becoming more common these days, but its total inclusion. So many have heard the famous adagio that it's a mystery why an ensemble like the Tokyo String Quartet would bother with the rest of it. The entire work is an old chestnut or perhaps something less nutty--a crumbly "everything" bagel, with strawberry cream cheese in the center. I don't know whose idea it was to include it yet again, and it doesn't really matter. Beyond its eight famous minutes, it just doesn't have that many profound or even poignant ideas. The rest of it is (forgive me for this oh posterity) just strung together. It was well played of course, but does a colorful painting of a crag transform it into a castle?
And therein is the central problem with this concert. Not the playing, which was good but not extraordinary, but the programming itself. Rather than challenge the audience with one modern piece by Bela Bartok or Krzysztof Penderecki, the event gave the audience something safe, something familiar. This is recession programming, fueled by fears of alienating a graying classical audience. Such programming can be expected of the Boston Pops, but not by cutting edge exponents of classical repertory.
CHAMELEON ARTS ENSEMBLE: Music of Beethoven, Roslavets, Ives, Tower, and Bartok
Shelagh Abate, French horn; Deborah Boldin, flute; Vivian Chang-Freiheit, piano; Gloria Chien, piano; Gary Gorczyca, clarinet; Joanna Kurkowicz, violin; Margaret Phillips, bassoon; Rafael Popper-Keizer, cello; Scott Woolweaver, viola.
October 17, 2010

The Chameleon Arts Ensemble began its 12th season with a challenging roster of pieces. Did they tackle them to the ground and hoist them to the sky? Read on.
Don't be misled by Charles Ives' Piano Trio, which starts so leisurely. Violinist Joanna Kurkowicz, cellist Rafael Popper-Keizer, and pianist Gloria Chien took it for a walk in the bright air, where it breathed deeply, misbehaved a few times, and ran down sunburst New England hills. Ultimately, it gave the audience a robust taste of the idiosyncratic Ives. At times, the violin was the orator, and the cello and piano the participating congregation. There were forceful, almost angry tones in I, but they gave way to the good-hearted whimsy of II. The piece is an often eccentric rendition of folk and religious music, all with slightly skewed melodies, tempos, or both. There was no telling what deviltry they'd conjure up next. The performers managed to rein in the exuberance in III, turning the arch rendition of "Rock of Ages" into a calmer, more dignified affair. This final--and longest--movement featured an intriguing canon in the strings and strains of late Romantic themes and development. "Rock of Ages" turned into a contemplative code, as if Ives is performing contrition at having mocked it in II. Well handed, Kurkowicz, Popper-Keizer, and Chien!
The Beethoven Cello Sonata, Opus 102, No. 1, also started slowly and subtly in the first half of I, but soon erupted into highly accented figures so typical of Beethoven. Cellist Popper-Keizer and pianist Vivian Chang-Freiheit chose to play the first part of this movement with passion intact but storms subdued, perhaps leaving the pyrotechnics to the second half. And erupt they did, ending I with tight angular control. In II, all stops were loosed, even as the opening adagio pondered, then broke under the spell of a vigorous folk tune, complete with humorous dialogue between the two instruments. The sudden wry stops in the allegro vivace are "precious tidbits," as my grandfather used to call them. Compared to the composer's subsequent string quartets, there's not quite enough "Sturm" in this piece; however by last bar's end, there was more than enough "Drang."
Nikolai Roslavets, dubbed "the mystery man of Soviet music" and "the Russian Schoenberg," was hot in the 20's period of Russian Futurism and Constructivism, only to be purged and silenced for fifty years after that. This performance of his First Viola Sonata began as a late Romantic piece, perambulated in atonal clusters, then ratcheted up the intensity, particularly while both instruments played in tight dialog with each other. Violist Scott Woolweaver and pianist Vivian Chang-Freiheit admirably navigated this particular piece, as if they'd been playing it for years. Later, the piece approached not Schoenbergian, but Alban Bergian levels of lyricism, with its consistent themes of striving upward, struggle, and brief diversions of rest. The coda left the audience with presentments of an onrushing tide, followed by four barbed chords. "It encouraged me to get the music for the Second Viola Sonata," said Woolweaver after the concert.
The lightest piece of the evening is by the evanescent Joan Tower, that Grammy-winning contemporary American composer from whom tunes and themes bubble like sparkling seltzer. A Gift is a relatively recent work and is based on a subtle insertion of Rogers and Hart's tune from Babes In Arms, "My Funny Valentine." In form it is a quintet for piano and winds, but in mood it is more of a serenade, like those in Mozart's time, penned for specified occasions. Although fragments from this work sound "jazzy," (particularly Gary Gorczyca's florid clarinet solo), don't expect Chet Baker-like variations. However, there were frenetic and exuberant displays of virtuosity from performers like Deborah Boldin (flute) and Shelagh Abate (French horn). There are many programmatic effects, like swirling and stabbing figures to suggest wild dancing, although the rhythm was not exactly dancelike. I wish Margaret Phillips' bassoon had a more pronounced part, but Ms. Tower, who's written a clarinet concerto, seems more comfortable with that instrument. Alas, I shouldn't expect so much. A Gift was a tasty bonbon, attractively wrapped.
Bartok's Sonata No. 2 for Violin and Piano is an entirely different beast, however. In fact, it was the evening's centerpiece. Expertly played by Ms. Kurkowicz and pianist Chien, how could it not be? Musically, it was the most sophisticated and memorable work on the program. It began molto moderato, which doesn't begin to explain the sense of mystery and foreboding the deft interplay between violin and piano provided. Most haunting was a five-note figure that reappeared as a leitmotiv throughout. For nine minutes, the performers kept up the tension, then a sly pizzicato erupted into the vigorous Hungarian dance-like sequences of II. Kurkowicz and Chien provided excitement and variety, before dropping into an air of tranquility. The five note theme returned, almost seductively, and the piece ended.
This concert bodes well for the coming season.